LBank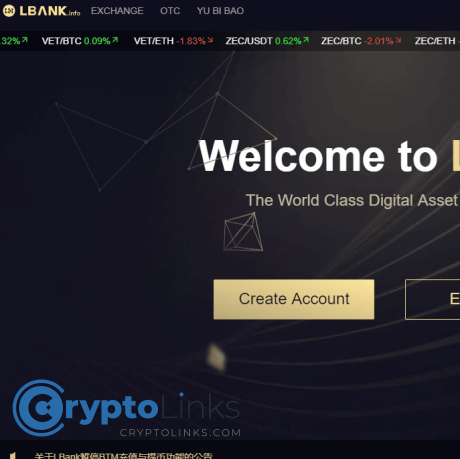 LBank is one classy cryptocurrency exchange platform, it is regarded as one of the world's best. It has a structure and pattern different from most sites. It has bright themes and drives most guests on the site to explore further. There are 3 different things you can do or explore on Lbank aside trading and exchange, they are; 1. Campaign 2. Vote 3. Log or Activities. Lbank also has a news update mechanism where information about the market is being displayed and new offers or deals are aired. Users can make use Lbank to their own advantage whichever way they want but they should be ready to explore and understand what they would love to do at the same time. On the home page, you are given two options, it is either you create/log in account or proceed to Exchange. However, on the Exchange section, there are details about each cryptocurrencu. For each of these currencies, there are graphs for them. These graphs show patterns of the each of the crypto with regard to fluctuations in market. In addition, Lbank has an App where operations could be performed easier and faster. This App may not be mobile-friendly i.e. may select devices it could be perfectly displayed on because of the theme. You can download the app from the topmost part of the site on your mobile or desktop.
Аdvantages
check_circle
Site is classy and has a wonderful theme.
check_circle
Lbank site allows customers to explore as much as they want
check_circle
Displays real-time value of cryptocurrency.
Limitations
cancel
Site is too complex with no easy navigation.
cancel
Not accessible on every device.
Alternative Cryptocurrency Exchanges
Find the best list of Bitcoin and Cryptocurrency exchanges to buy, sell, or trade bitcoin or any cryptocurrency at the 0 fees with no risk.