Chaoex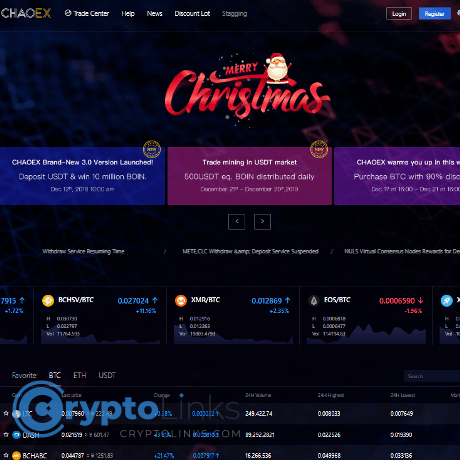 Chaoex is one of the world's reliable multi-crypto trading platforms. This platform operates on 5 top digital currencies in the world; BTC, ETH, LTC, LSK and CHEX. On the site, there are options such as the trade center, OTC, Help and News section. The news section on Chaoex keeps people updated on recent happenings in the crypto world. Also, the rates at which these 5 coins are exchanged, and various prices sold are displayed in a rows and columns on the site. Chaoex is mobile friendly as it supports many mobile devices making it easy to access and diversity to trading activities. You can contact Chaoex is 3 different ways; through service mailbox, business collaboration and office hour (between 8am to 7pm every Monday to Friday). Features of Chaoex 1. Fees: Fees on Chaoex are simple and affordable. Trading fee is as low as 0.1 % and there are different deposit and withdrawal fees according to the crypto. 2. Safety Protocol: There are several safety protocols on Chaoex like the anti-infection, anti-protection and several others. All these are to ensure the safety of transactions involving a customer's digital asset. 3. Transparent system: The system has been designed to be transparent, building a level of trust between the user and Chaoex platform. 4. Equity-oriented: Chaoex believes in following trading rules and regulations concerning transactions between a customer and the financial market. This is available for the best interest of traders.
Аdvantages
check_circle
Site has a good theme and easy navigation
check_circle
All digital assets are protected by a safety protocol and guided by trading rules.
Limitations
cancel
Deposit fees is required unlike most top crypto exchange platforms.
Alternative Cryptocurrency Exchanges
Find the best list of Bitcoin and Cryptocurrency exchanges to buy, sell, or trade bitcoin or any cryptocurrency at the 0 fees with no risk.