BitMarket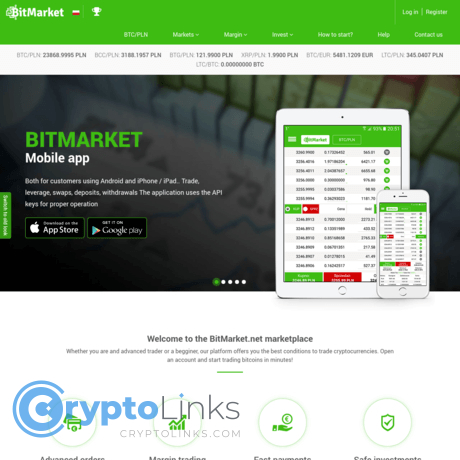 BitMarket unlike every other exchange platform uses a mobile app to run most of its activities. The mobile app is preferable because of its convenience, ability to trade and perform other operations at the same time. The mobile app supports both Android and Apple iOS. This mobile platform allows you to trade conveniently with no hidden fees. Also, there are API keys involved in order to enjoy maximum performance from this exchange platform. They have diverse payment options such as topping up your account via electronic transfers and withdrawing funds instantly. Registration on the site or mobile app is easy as it requires only few of your personal details and you can start trading. Features of BitMarket 1. Advanced Order types: On BitMarket, you get automatic orders every time and every day; hence, you don't have to start seeking for order types manually anymore. 2. Instant payments: Payments on BitMarket are fast because you don't have to start waiting on bank transfers, you can easily make your payments via electronic transfer. 3. Investments: There are several ways to invest on BitMarket but the most common one is giving out loans to investors on the platform and you automatically earn big; regardless of the changes in exchange rate. 4. Margin trading: BitMarket supports customers trading on margin by multiplying their earnings. This is only possible when you make your trade on a liquid market.
Аdvantages
check_circle
BitMarket is mobile-friendly because it grants you access through Android and Apple supported devices.
check_circle
The site has good designs and well detailed.
Limitations
Alternative Cryptocurrency Exchanges
Find the best list of Bitcoin and Cryptocurrency exchanges to buy, sell, or trade bitcoin or any cryptocurrency at the 0 fees with no risk.