BigONE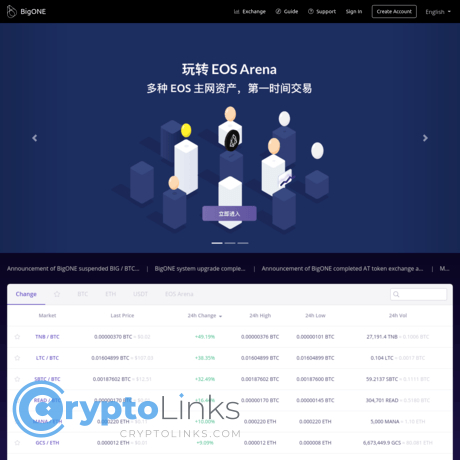 BigONE Faces
BigONE is a platform where you can make exchange as fast as possible. BigONE has an application which is mobile friendly and easy to use. On the home page, the site give updates and announcements about different things in the world of coins and cryptocurrencies. BigONE's recent achievement was creating a Telegram chat group for users. When you want to create an account, you must read carefully what the site entails before you proceed. The most common order type made on BigONE is EOS. For the crypto pair trade like EOS/BTC trade, there is a trade chart showing different rates with regard to fluctuations in the market. There is also a trade depth providing more information about the crypto pair. Below the chart, you will find options to either view the order book or check for trade history. Afterwards, you can proceed to either buy or sell your orders at a fixed price. Fees paid on BigONE such as trading fees are guided by policies and BigONE API documents different things that happen in the market on the platform. These documents can be viewed directly or downloaded on your device. Altogether, BigONE has made itself accessible from different social platforms like Facebook and Twitter.
Аdvantages
check_circle
BigONE has a social media platform available for users aside a web address.
check_circle
Trade on the site is fast and easy.
check_circle
Information are provided both in words and charts for easy comprehension.
check_circle
First platform to open a Telegram group chat for users.
Limitations
cancel
Security of the platform is not 100 % guaranteed.
Alternative Cryptocurrency Exchanges
Find the best list of Bitcoin and Cryptocurrency exchanges to buy, sell, or trade bitcoin or any cryptocurrency at the 0 fees with no risk.