Gatecoin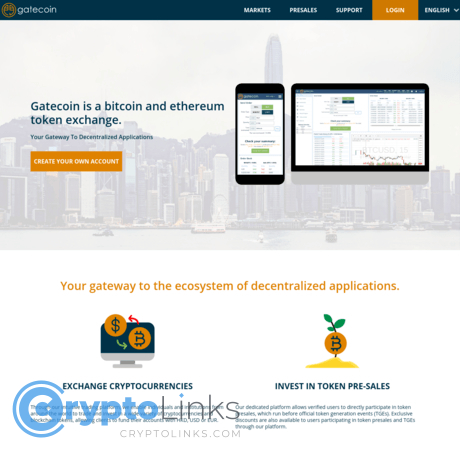 Gatecoin exchange platform is the gateway to many cryptocurrency problems and decentralized applications. It helps to combine financial service and blockchain technology together. Gatecoin is simply a site for Bitcoin and Ethereum token exchange. The site is simple, easy and mobile-friendly. All transactions can be done easily on any mobile device without stress. On Gatecoin's dashboard, there are options such as; Markets, Presales and Login details. It is also a social platform and update customers using their news update or social media accounts like Facebook, Twitter, Gmail, etc. Gatecoin is supported by over 6 countries (languages) which makes it acceptable in most part of the world. On the news update section, there are 2 types; Gatecoin listed in news and information about cryptocurrencies (Bitcoin and Ethereum), markets etc. from Gatecoin's blog. Features of Gatecoin 1. Resources: Gatecoin has the resources to make it acceptable in most parts of the world. It also has an advanced technology which ensures maximum performance and language variety. 2. Legal support: Gatecoin follows legal procedures for its operation. Trading and exchange of Bitcoin and Ethereum is guided by rules set by both the management and financial associations in the countries supporting the platform. 3. Customer service: The customer service support is great and perfect. You are easily connected to their customer service rep. when there is an issue.
Аdvantages
check_circle
Gatecoin has many useful resources to ensure maximum performance.
check_circle
Gatecoin follows legal procedures during operation.
check_circle
Security of account and funds is topnotch.
check_circle
Site is mobile-friendly with great design and theme.
check_circle
Customer service is perfect.
Limitations
Alternative Cryptocurrency Exchanges
Find the best list of Bitcoin and Cryptocurrency exchanges to buy, sell, or trade bitcoin or any cryptocurrency at the 0 fees with no risk.