Delta.Exchange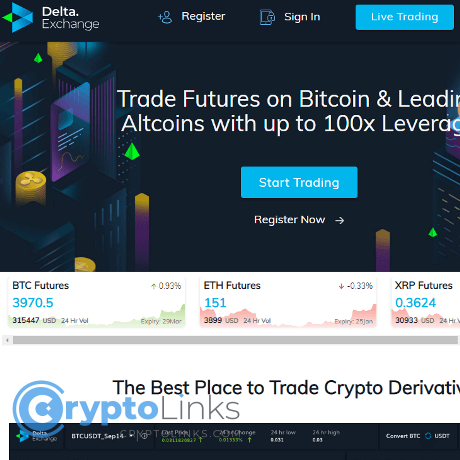 Delta exchange is a recently launched cryptocurrency derivatives exchange. The exchange was founded by Jitender Tokas and Pankaj Balani. Pankaj Balani operates as the CEO. The exchange launched in 2018 and offers several cryptocurrency derivative products priced against USD. These include bitcoin, ether, Ripple (XRP), and Stellar Lumens (XLM). Bitcoin can be traded with up to 100x leverage and the others can be traded with up to 20x leverage. One of the key advantages to traders using derivatives is the ability to go both short and long. The leading derivatives exchange for cryptocurrencies is Bitmex by a large margin. The main advantage which Delta has over Bitmex is that they offer some financial products which Bitmex do not have. While Bitmex offers bitcoin and ether trading priced against USD, all of its other contracts are priced against bitcoin. Delta Exchange also competes with Bitmex on fees. Market makers receive a rebate of 0.025% on bitcoin contracts and 0.005% on other contracts. Market takers are charged 0.075% on bitcoin contracts and 0.025% on all others. The exchange operates several social media channels including a Telegram group, Twitter, and a blog on Medium. The website also has clear documentation on all of the products offered along with FAQs. the main drawback of the exchange is its early stage of operation. It has yet to prove it has sufficient liquidity to operate as a leading exchange and maintain operations through turbulent market events. A reputation and trustworthiness can also only be built with longer times of operation.
Аdvantages
check_circle
Founders are known to provide credibility to the exchange
check_circle
Products offered which Bitmex do not offer
check_circle
Fees are low
Limitations
cancel
Only launched last year
cancel
Yet to prove itself in terms of liquidity or trustworthiness
Alternative Cryptocurrency Exchanges
Find the best list of Bitcoin and Cryptocurrency exchanges to buy, sell, or trade bitcoin or any cryptocurrency at the 0 fees with no risk.