Coinnest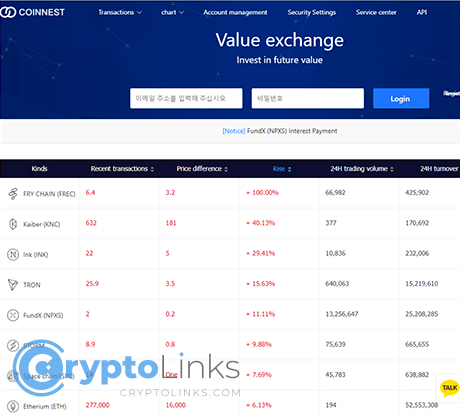 Coinnest is a value exchange platform that provides information about crypto coins and their current market condition on a chart. On the home page, the site shows; Cryptocurrency, last transaction price, difference, daily market fluctuation, volume under 24 hours, trading amount and price chart every 3 days. Signing up on the site is very easy because all that is required is your E-mail, password and the verification code sent to your email. Once, you have filled the sign-up details, you can start trading on the platform. It is one of the top digital asset trading company and supported by 3 countries; U.K., China and Korea. On the topmost part of the home page, there are options like; 1. Trade: This section shows different crypto trade taking place on the site and information about them is update by the minute. 2. Chart: This section interprets all crypto trade into diagrams and chart. The rise and fall of these charts show fluctuations in market and what to likely expect next to happen. 3. Account: A customer's account can be viewed from this section. You can set your profile and monitor your digital assets closely. 4. Security: The security on Coinnest is advanced because it uses a 2-Factor Authentication protocol in protecting accounts. When you register, a verification code is sent to your email as part of the procedure to keep your account safe. 5. Center 6. API: There are 2 types of API on Coinnest; Public API which grants you access without private kays and Private API which si protected with private keys.
Аdvantages
check_circle
Verification protocol is quite good.
check_circle
Information about cryptocurrencies are presented in words and charts.
Limitations
cancel
Non-Korean speakers could have a problem exploring the site.
Alternative Cryptocurrency Exchanges
Find the best list of Bitcoin and Cryptocurrency exchanges to buy, sell, or trade bitcoin or any cryptocurrency at the 0 fees with no risk.