Bibox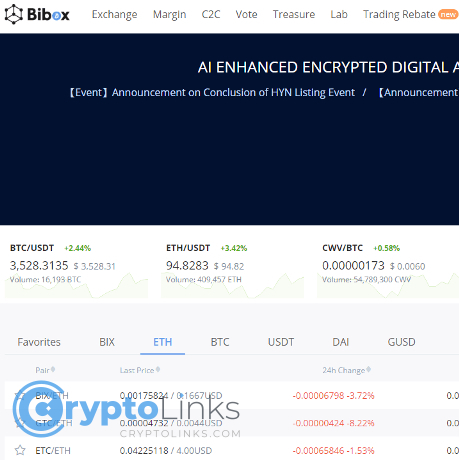 Bibox is an Artificial Intelligence improved and encrypted digital exchange asset platform which is involved with both trading and exchange. It uses a system whereby all activities are carried out in a unique way and are properly presented according to the market. On Bibox, the most popular cryptocurrency pair have been listed with their BIX, ETH, BTC, DAI and USDT market price. For instance, cryptocurrency pair under ETH are; 1. BIX/ETH 2. GTC/ETH 3. ETC/ETH 4. BCH/ETH 5. LTC/ETH and many others. Bibox has an application to aid performance aside a web browser. This digital exchange application is supported by all devices. Also, Bibox displays recent news about the market and several other promotions which will favor users. It also gives update about each cryptocurrency as they come with the market situation. Features of Bibox are; • Token Trading: This involves trading in tokens and it is divided into; Basic and Full screen. On basic token trading, there exchange rates, time and indicators of when changes take place. • Market Trading: This is a peer-to-peer funding platform where you can either loan or lend. As a lender, you get an interest for providing members with funds. • C2C • Vote • Treasure Box: In the treasure box, there are 2 options involved; CunBi Bao and Lockup records. In addition, Bibox is guided by rules and regulations of the government, ensuring the use of cryptocurrencies and other digital asset activities are being maximized to its full potential.
Аdvantages
check_circle
News services where updates are provided.
check_circle
Artificial-Intelligence based and encrypted.
Limitations
cancel
Security of funds may not be guaranteed.
Alternative Cryptocurrency Exchanges
Find the best list of Bitcoin and Cryptocurrency exchanges to buy, sell, or trade bitcoin or any cryptocurrency at the 0 fees with no risk.