Coinegg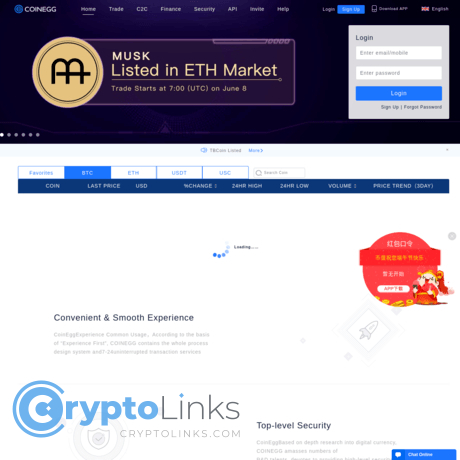 Coinegg is a large cryptocurrency exchange platform with amazing designs, activities and features. Some of the amazing features will be discussed later but our focus is on the announcement section where update on trade is displayed. Below are some announcements made on the site; 1. Global Pass ET: New Blockchain Ecology 2. Trade on the Go with Coinegg newly released App 3. Coinegg Official Telegram Channel. 4. OGD listed on Coinegg 5. Commission for friends and families. There is also information on exchange rates, price of cryptocurrency pairs and changes in 24 hours. The site has a chat group where you can get connected to other registered members on the platform as well as get in touch with a customer service rep. Features of Coinegg 1. Comfortable and Easy-to-use System: Coinegg is very easy to use and on the basis of its reputation in the market, it is considered one of the largest platforms that makes trading easy. 2. Topnotch Security: The security on Coinegg is top level. Users' account and funds are safe because of this multi-layer security level on the platform. 3. Globally active: The site has been designed so it could be used anytime and anywhere in the world. It offers a first-class global trading service. 4. Multi-digital currencies: Coinegg accepts as many cryptocurrencies as possible. However, each of these cryptocurrencies must be top grade and universally active.
Аdvantages
check_circle
System is built on a multi-layer security level.
check_circle
Site is globally accessible.
check_circle
Different top grade cryptocurrencies are acceptable on Coinegg
check_circle
Customer service is quite good and effective
Limitations
Alternative Cryptocurrency Exchanges
Find the best list of Bitcoin and Cryptocurrency exchanges to buy, sell, or trade bitcoin or any cryptocurrency at the 0 fees with no risk.