Quoine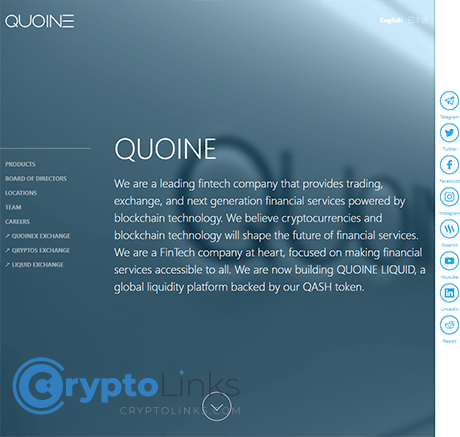 Quoine is an exchange company that combines financial services with technology, and not just any technology, blockchain technology. The next project on Quoine is the liquidity of assets which will be backed by a token used on the platform; Qash. Quoine platform is built so it can accommodate everyone; both the privileged and the underprivileged. This exchange platform was built for trading, exchange and as a solution for future financial problems. The project on making Qash the mode of payment for financial services is ongoing and just like, Bitcoins and other cryptocurrencies used for financial services, Qash will be used effectively for transactions. Currently, Quoine has two products available on its platform, they are; 1. Quoinex: Quoinex is regulated by the Japanese financial association. It is regarded as one of the largest cryptocurrency and fiat exchange platform in the world because they make over USD 10 B transactions in a year. 2. Qryptos: Qryptos is a product of Quoine which is involved only with cryptocurrency exchange. This platform allows different registered users on the site to trade or buy and sell their cryptocurrencies easily. Features of Quoine 1. Products: Quoine has amazing products on site which have been ranked two of the best in the world of crypto exchange. Currently, Qash would be another top-ranked product in the world of cryptocurrency produced by Quoine. 2. Liquidity: The liquidity of asset is one-of-a-kind and system has been built to be a solution for future financial problems.
Аdvantages
check_circle
Site has wonderful themes and designs.
check_circle
Quoine is mobile-friendly and can be accessed easily from any device.
Limitations
Alternative Cryptocurrency Exchanges
Find the best list of Bitcoin and Cryptocurrency exchanges to buy, sell, or trade bitcoin or any cryptocurrency at the 0 fees with no risk.