Coinroom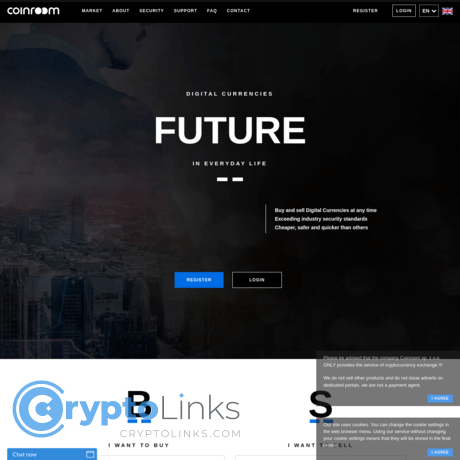 Coinroom is a cryptocurrency exchange platform for your daily activities. You can eaily buy and sell digital cryptocurrencies anytime and anywhere in the world. The security protocol on Coinroom makes it safe, secure and easy to use. You can register easily on the site and in case you want to buy or sell cryptocurrencies, there is a section where you could fill in the details. For instance, if you want to buy Bitcoins, you would have to enter the currency in Euros or any other available currency of your choice (USD, PLN, GBP, TRY), price for the Bitcoins and number of Bitcoins you want to buy; after this, you can choose your payment method and proceed to buying. Also, if you want to sell Bitcoins, you would have to enter the number of Bitcoins you want to sell, the currency in Euros or any other and the price you are willing to sell; after this, select a payment method and proceed to selling. Features of Coinroom 1. Professional support: Coinroom offers professional support when purchasing or selling cryptocurrencies on the platform. 2. Security: The security protocol is a 2-Factor authentication which has a reputation that precedes it from other exchange platform. 3. Personal Account Control: A customer has full control of his or her account on Coinroom. You can easily monitor changes and view transaction history with ease
Аdvantages
check_circle
Coinroom uses a 2-Factor Authentication protocol.
check_circle
Wide range of currencies and cryptocurrencies to choose from.
check_circle
Transactions are fast and easy.
Limitations
Alternative Cryptocurrency Exchanges
Find the best list of Bitcoin and Cryptocurrency exchanges to buy, sell, or trade bitcoin or any cryptocurrency at the 0 fees with no risk.