useBitcoins.info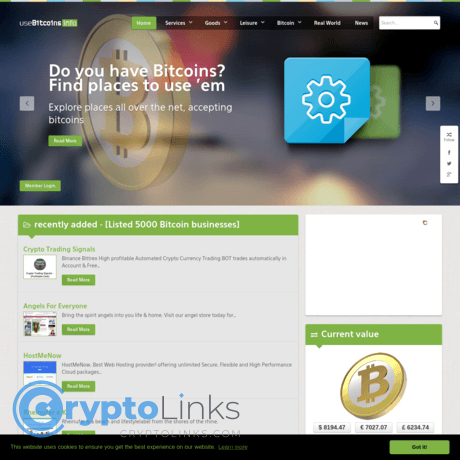 Usebitcoinss essentially a data base that gives users information and ideas on where using bitcoins as payment is acceptable. UseBitcoins claims to have listed 5012 business. After a quick review of the site, it does seem quite expansive and offers a lot of potential uses for bitcoin. This may be a good site to show your speculative friends who claim bitcoin has no use! Aside from several well organized lists of business who accept bitcoin, you'll also find an interactive map function showing. This function is more interesting that usable, but it does provide a great outlook on how bitcoin payment systems are being adopted worldwide and by the type of business. The site also advertises a bitcoin world map application for Android devices only.
Аdvantages
check_circle
The site is great for finding out what businesses you can use bitcoins as a payment method.
check_circle
It's well organized and offers specific categories to search on behalf.
Limitations
cancel
The Bitcoin World Map application is only availbe on Android devices.
cancel
They offer a bitcoin price updater on the home screen, but it claims it's only updated every 10 minutes, which we all know is not nearly fast enough to provide accurate bitcoin pricing! It also doesn't indicate what or where it finds these prices, so we cant determine how valid the price is.
cancel
There are many ads that seem to be features of the website, but once clicked on, redirect you to other websites.