TravelForCoins.com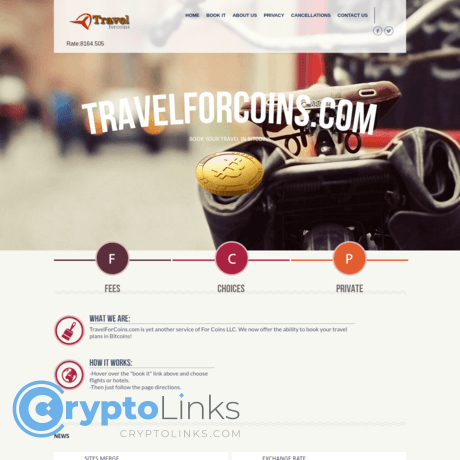 Another installment by For Coins LLC, travelforcoins.com offers a platform in which you can easily pay for your flight and hotel bookings via cryptocurrencies. The site claims it offers a competitive exchange rate and no booking fees. It also claims it offers flights on "most" airlines worldwide and over 245,000 hotels. This site prides itself on true cryptocurrency standards, promising that it never requires personal information such as an address and pledges to never sell or distribute any information you provide. Aside from all of that, the website appears to be unusable. It instructs visitors to "hover over book it and choose flights or hotels" but there is no book it opens and anything you click on the site leads nowhere. Only until you click a very small "book it" link at the bottom, which doesn't appear to be the one the instructions were intending on you using, will you finally find the book it section. Here you will see a "choose your booking company" with a single badge routing you to Hotels.com. It seems kind of odd that it would ask you to "choose your Booking Company" when it only offers one option. How the site works is that it takes "welcome rewards" reservations from Hotels.com and prepays them in fiat, then collecting your cryptocurrency.
Аdvantages
check_circle
The idea is great, and it can be appreciated that someone is attempting to create a link between hotels.com and crypto.
Limitations
cancel
The site is very poorly designed and lacks very basic features one would expect to find on a travel website.
cancel
The site doesn't actually allow you to purchase anything in bitcoin per say, but rather is a very sketchy middleman using hotels.com.