Strapping Fellow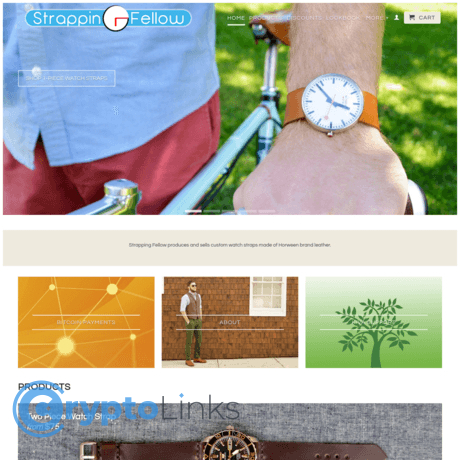 Strapping Fellows business model was formerly known as Cloudy Sky Leatherworks which is based in Virginia. Their product niche consists of fully customizable leather watch straps made from high quality Horween leather and are always completely handmade. Something interesting you'll find here is that the company pledges 5% of its total revenue to donations for Kiva, an organization providing aid to underprivileged entrepreneurs. Paying with Bitcoin on this site will provide you a 10% discount with the discount code "bitcoin". The site includes a small introductory video on Bitcoin and claims it has chosen to accept Bitcoin to allow users to anonymously purchase their products. The owner claims by using Bitcoin you are saving the company 3% from fees charged by credit card companies. He also claims he does not convert bitcoin to USD and even pays his web developer in Bitcoin! Overall, the site is clean, easy to use, and has a plethora of handmade watch accessories to choose from. It would appear this site has good credibility as it has been mentioned by Shopify's bitcoin page as a top "Successful Bitcoin Merchant". The site has also been featured on Dapper Guide and Gizmodo.
Аdvantages
check_circle
100% satisfaction guarantee.
check_circle
Ran by a cryptocurrency enthusiast.
Limitations