OpenBazaar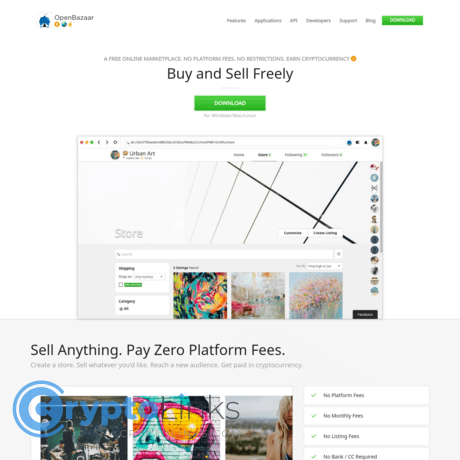 Openbazaar is essentially an eBay style worldwide marketplace allowing users to sell anything they want and receive cryptocurrencies as payment. They also advertise a zero free platform structure including free membership, no listing fees, no platform fees, and free store customization. Using this platform allows you to purchase a very wide range of products including local foods, rare items, clothes, jewelry, art, handcrafted items, music, games, videos, and even short-term accommodation rentals. In using OpenBazaar there is no middleman, it is completely peer to peer. It is specifically created to facilitate eCommerce between the buyers and the sellers. Openbazaars platform includes a live chat function enabling store owners to chat with customers right from the desktop app. Speaking of apps, Openbazaar is currently only available from the desktop app. There is no platform on the website, you must download the desktop app to gain access.
Аdvantages
check_circle
Openbazaar is peer to peer, eliminating the middleman. This allows for lower prices and more freedom in an open market style environment.
check_circle
Over 50 cryptocurrencies are available for use as payment methods while the seller will always receive their choice of Bitcoin, Bitcoin Cash, or Zcash.
Limitations
cancel
The seller is limited to accepting only Bitcoin, Bitcoin Cash, or Zcash.
cancel
The marketplace is only available if you download the desktop application. There is no access to the platform via website or mobile devices currently.
cancel
There may be complaints with security from individuals using crypto for the sole purpose of staying anonymous because of the nature of the platform. The desktop app must be downloaded, possibly causing concern for security and anonymity purposes.