CheapAir.com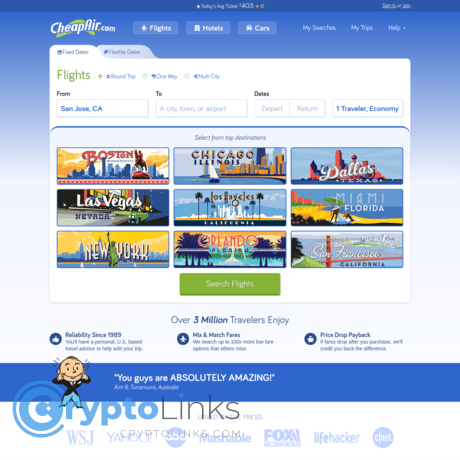 Just as the name suggest, Cheapair's website offers flight tickets for those willing to pay in cryptocurrencies or fiat. They claim that over 3 million travelers have enjoyed there services thus far. They also offer a US based travel advisor to assist in planning your trip. A price drop payback program is implemented on this platform ensuring that if fares drop after you've purchased through their platform, they will issue a credit from the difference. The site also has a flight tracking tool to assist in following prices and choosing the highest value dates. Admired by WSJ, Yahoo, ABC, Mashable, Fox, Lifehacker, and Cnet, it would appear they have a decent amount of credibility. The site currently accepts Bitcoin, Bitcoin Cash, Litecoin, and Dash.
Аdvantages
check_circle
The site is well designed and easy to navigate and includes all the normal travel site tools you'd expect.
check_circle
on the site.
check_circle
It accepts more coins than just Bitcoin.
Limitations
cancel
You won't see anything priced in terms of crypto until the final check out page. This makes shopping around for low prices in cryptocurrencies specifically a little more difficult.