aBitSky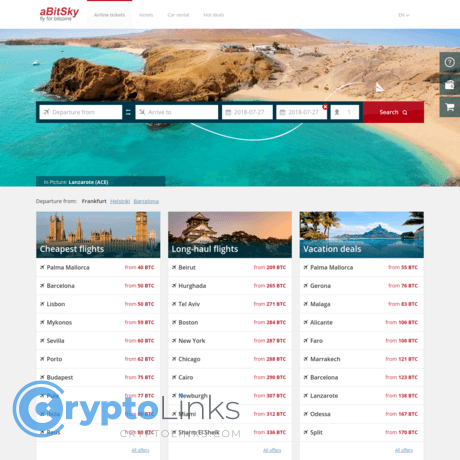 Simply put and exactly what you'd expect, Abitsky allows users a platform to purchase flight tickets with bitcoins. They claim to focus on low-cost flights and offer a vacation deals section, which really just seems like the same function as the regular flight index. Abitsky allows users to search by many different parameters such as departing cities, price, total stops, layover options, flight duration, time of departure, and specific airlines. Something interesting about Abitsky is their partnership with Booking.com. At the top of the page, you can select categories including Airline tickets, Hotels, Car rentals, and Hot deals. However, so long as you aren't searching for Airline tickets, you will be redirected upon choosing any of the other options straight to Booking.com. When directed to Booking.com, any services you select are to be paid in fiat currency, not Bitcoin. You can pay in Bitcoin for flight tickets but if you're looking to bundle an all inclusive trip, you will have to choose multiple payment methods.
Аdvantages
check_circle
Ability to pay for flight tickets with bitcoin.
check_circle
The site seems well organized and offers information regarding luggage rates and additional services.
check_circle
The fact that a major booking service such as booking.com has chosen to partner up with Abitsky and even showcase Abitsky's logo on their page gives the service a lot of credibility.
Limitations
cancel
The initial offering of the tickets does not show the actual airline, which may be a piece of information important to some shoppers. It does show the airlines name on specific searches, but not on the homepage section.
cancel
You cannot bundle several services together using Abitsky like it's homepage would suggest. Although having options to many different travel amenities, the only available option with Bitcoin as a payment method is flight tickets.