Gyft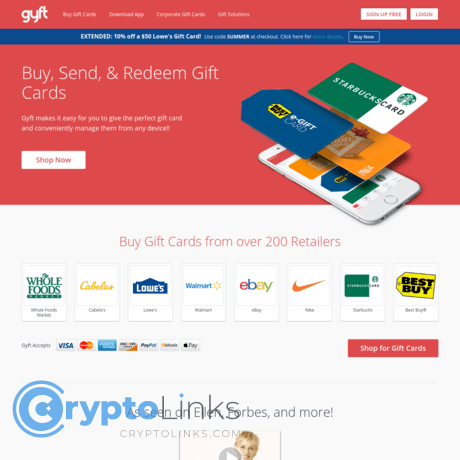 Gyft.com or the Gyft application (available on both Android and IOS) allow users a seamless way of sending and using gift cards. The main tool Gyft has to offer is the ability to send gift cards quickly and easy over the web to anyone you want. A secondary tool Gyft offers is the ability to track, manage, and view information on your gift cards right from your internet connected devices. You won't need to carry the physical gift cards with you anymore. Gyft accepts several modes of payment including your typical Visa, Mastercard, American Express, Discover, Paypal, and Apple pay but also accepts payment in Bitcoin. They advertise no fee's when paying with bitcoin and offer all the same deals and opportunities as the other traditional payment methods. Gyft even offers a little Bitcoin guide on their website detailing how to access and purchase Bitcoin, how to use Bitcoin on their platform, and how to purchase gift cards with Bitcoin as a payment method. The app implements QR technology to streamline the Bitcoin payment process if you have a Bitcoin wallet on your mobile phone.
Аdvantages
check_circle
Gyft has no fee's for payments in Bitcoin.
check_circle
Lightens your wallet by enabling your gift cards to be usable and manageable through their app.
check_circle
Gyft has reputable mentions from several sources such as Ellen, Forbes, Cnet, and Mashable.
Limitations
cancel
Gyft only accepts Bitcoin and no other cryptocurrencies at this time.