Bitcoin Commodities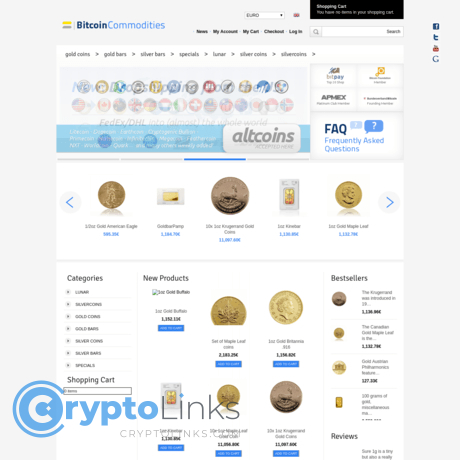 Upon visiting the site, users will find very little information and a lack of an about section a bit annoying, although it's a little obvious what the page is for. Bitcoin Commodities is a marketplace platform allowing for users to purchase gold, silver, and collectable coins using cryptocurrencies. Upon clicking on the banner detailed which cryptocurrencies, they accept, you are just rerouted to the homepage, which is quite frustrating. There is actually very little information on regarding cryptocurrencies, but we can see a small "Bit Pay" logo in the corner. The banner itself just shows a picture of a plethora of lesser known altcoins and says, "altcoins accepted here". That's it. No actual list of what coins are accepted.
Аdvantages
check_circle
They accept cryptocurrencies, or so they claim to accept cryptocurrencies.
check_circle
You can trade crypto for gold and silver commodities.
check_circle
There seems to be a decent variety of commodities to choose from.
Limitations
cancel
The site isn't very professional and comes with several broken links.
cancel
A massive lack of information here with little to no information at all regarding cryptocurrencies.
cancel
The site has two reviews that are from the same person and basically say the exact same thing.
cancel
This site offers little to no credibility and doesn't establish trust.