Wirex - Bitcoin & Litecoin wallet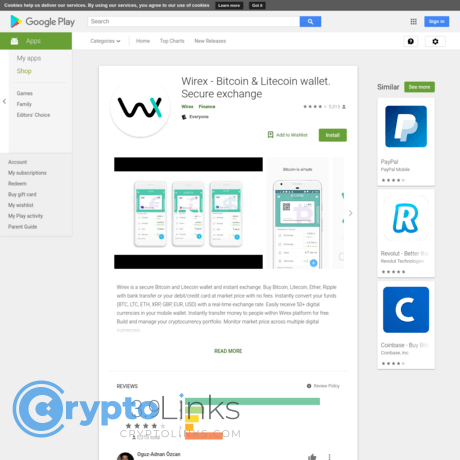 Wirex has a wallet that supports over 50 cryptocurrencies which is a wider variety than a lot of competitor wallets. Wirex was founded in 2014 and have over 1.5 million customers. Users give up control of their private keys to Wirex. However, personal data is 128-bit encrypted. The wallet enables exchange between fiat currency and cryptocurrency also. The fiat currencies supported include EUR, USD, and GBP. In terms of features, the Wirex wallet has multi-signature optionality. Users can also enable two-factor authentication to add an extra layer of security to their accounts. The Wirex wallet is not hierarchical deterministic. It is also not open source which means users its level of security cannot be assessed. One of the key features of Wirex is it enables users to exchange between cryptocurrencies within the wallet. This saves users having to withdraw to exchanges, make the exchanges, and deposit back to the wallet. Wirex wallets are available on your web browser, Android, and iOS. In terms of fees, wallet functions are mostly free and users pay the normal mining fees for transactions. Wirex has a linked prepaid card business which they charge fees on.
Аdvantages
check_circle
Supports over 50 cryptocurrencies
check_circle
Facilitates the exchange of supported cryptocurrencies
check_circle
Users can also exchange between cryptocurrencies and EUR, GBP, and USD
check_circle
Multi-signature option
check_circle
Users can enable two-factor authentication for an extra layer of security
check_circle
Wallets are available on web browsers, Android, and iOS
check_circle
Data is 128-bit encrypted
Limitations
cancel
Users give up control of their private key
cancel
Not hierarchical deterministic
cancel
Not open source
Alternative Android Wallet App
Find out which Best Bitcoin and Cryptocurrency Wallets you need for your Android smartphone.