Bitcoin Pool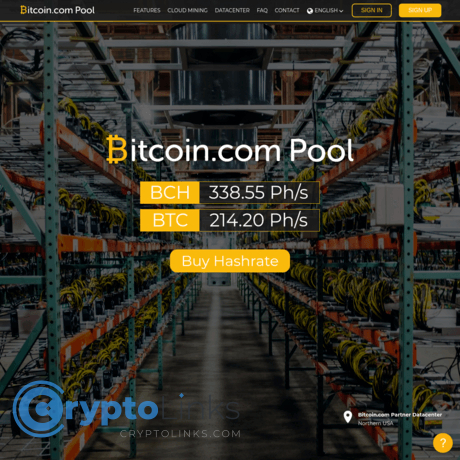 Bitcoin.com Pool is one of the most well-known Bitcoin mining pools. They are also the provider of the most widely used Bitcoin wallet in the world. They claim to provide a mining pool which offers 110% rewards with 0% fees. Bitcoin.com Pool launched its cloud mining services in 2017 and have formed a partnership with the largest mining farm in North America to provide hashing power for their cloud mining services. Bitcoin.com Pool, provide contracts for users to mine both Bitcoin and Bitcoin Cash. Currently, the contracts for Bitcoin and Bitcoin Cash have a lifetime of 5 years. Users can then select the hash power they would like for that 5-year period. Fees are dependent on the amount of hash power bought and they also vary between Bitcoin and Bitcoin Cash. For example, a Bitcoin contract for 5 years and the default 5TH/s of hashing power would result in a daily fee of 0.70 USD. The fees would be directly deducted from the user's earnings. Therefore, the user would only have to pay a one-off sum when buying a contract initially.
Аdvantages
check_circle
Backed by Bitcoin.com which has a solid reputation in the crypto space.
check_circle
Easy to use website with plenty of information about the mining plans.
check_circle
Users can customise the amount of hashing power they would like to buy to suit their personal needs.
Limitations
cancel
Only 5-year contracts available to users, it would be nice if there was more flexibility with the duration as a lot of competitors offer this.
cancel
Only supports Bitcoin and Bitcoin Cash
cancel
Relatively new cloud mining service compared to other companies so needs to build up trust.