Terabox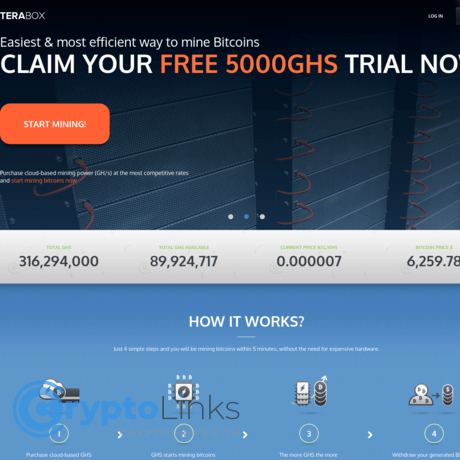 Terabox provides a cloud mining service selling hash power to mine Bitcoin. They have a network of ASIC miners through which a user can buy mining contracts. Contracts last for five years but Terabox states that you can sell the contracts back to them if you wish to terminate sooner. Terabox only accepts Bitcoin as payment for the purchase of the contracts. Terabox offers users hash power from 1 GH/s up to 600 000 GH/s. The pricing schedule of the plans is based on the payout frequency. The less frequent the payout, the cheaper the cloud mining contract will be. Terabox aims to provide a user-friendly experience with a live account dashboard, fast support, and an easy referral program. In the referral program, users can receive a 10% share of the purchased hash power. This is a lot higher compared to other cloud mining services. They don't charge any mining fees to the user. They claim to offer low rates due to their cheap electricity and custom-made mining equipment. Although they have made the process of cloud mining user-friendly, users do not have much flexibility in terms of contract length. Also, users cannot choose which mining pools they would like to be a part of. Furthermore, it's difficult to find any information on the team behind Terabox. There is not much information displayed on their website about the team or the company itself.
Аdvantages
check_circle
No fees.
check_circle
Easy to set up and use.
check_circle
High referral bonus.
Limitations
cancel
Lack of information on the company and team.
cancel
Payments can only be made in Bitcoin.
cancel
Lack of flexibility with mining contracts compared to other companies
cancel
Users cannot choose which pools they would like to join.