Poloniex Lending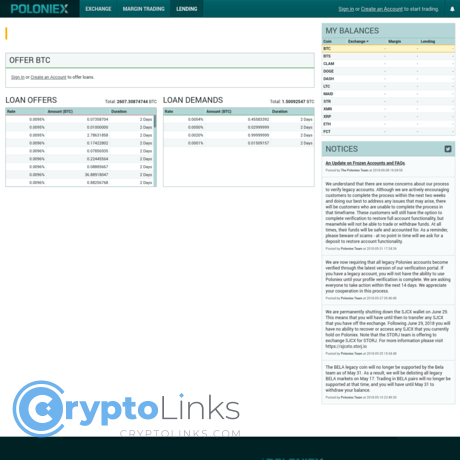 Poloneix is one of the best crypto exchange platform and the best lending market available. It has an awesome design with great contents and amazing features. You can either sign in or sign up on the site; if you are a registered user, all you have to do is sign in, however, if you are a guest, you can sign up by filling details such as your email and password to receive updates from the site. There are 3 categories on the site and they are; Margin Trading, Exchange and Lending. For the Exchange aspect, which is the most popular service rendered by the platform, there is an Exchange market that shows different types of currencies like 4 such as BTC, ETH, XMR and USDT. Each of these currencies have their Coin, Price, Volume and Change. They are updated as soon as there is change in the market. Also, for the Margin Trading aspect, there is the market where BTC is shown with regard to different Coins, Price, Volume and Change. BTC is marked as the favorite and you can search for other currencies as much as you like. In the lending market, all you find are your balances and there are 4 categories you will find, they are Coin, Exchange, Market and Lending. You can also transfer balances if you want to, there are always security checks and protocol associated with this action. Features of Poloneix 1. 3 in 1 crypto activity: It is involved with Margin Trading, Exchange and Lending. 2. Security: It has a topnotch security system better than most platforms.
Аdvantages
check_circle
Easy to use.
check_circle
Great design and easy navigation.
Limitations
cancel
Most suitable on a desktop rather than a mobile device.