Areszcoin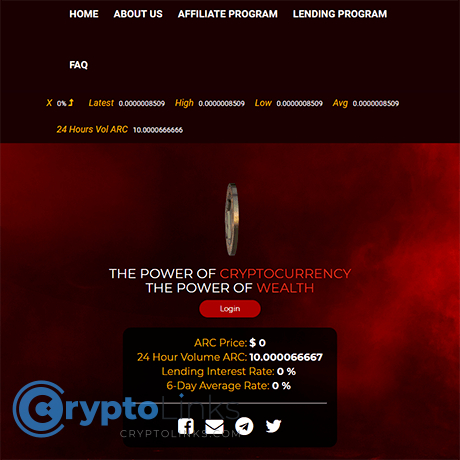 Areszcoin is an advanced lending platform different from all the known ones. It is more superior in design and content. Although, with little information on how to lend or make demands, it seems to be the best option for advanced traders. It is regarded as both the power of cryptocurrency as well as the power of wealth. To join this platform, all you have to do is log in or create an account and fill in details required. It is very easy to use and it shows ARC price, Volume in 24 hours, Interest Rates pertaining to lending and Average rates every 6 days. There are figures or percentages in front of these information. Areszcoin makes sure it is accessible socially through the use of social media platforms like Facebook, Twitter, Telegram, etc., all to reach a target audience and invite them to loan on the platform. Features of Areszcoin 1. Affiliate Program: Areszcoin offers Affiliate programs to its users in order to ensure rapid development and interest in providing solutions for the crypto world. 2. Lending Program: The lending program is the main reason why this is being considered; its lending program may be one of a kind but users are expected to enjoy a lot using the platform. 3. Frequently Asked Questions: Many questions pop into the heart of many Areszcoin users and this is often answered in this section of the site.
Аdvantages
check_circle
Advanced themes and design.
check_circle
Affiliate and Lending program are distinct.
Limitations
cancel
Slow response i.e. site is not mobile-friendly.