Salt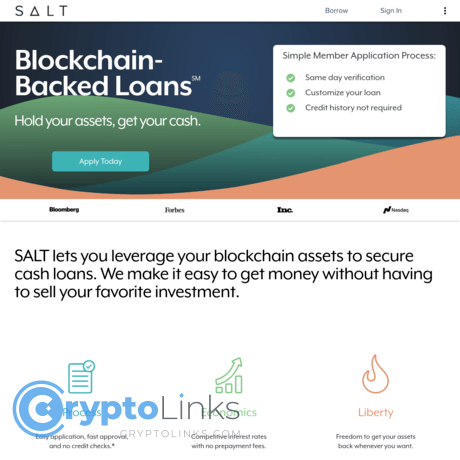 Salt is a lending platform that operates on a peer-to-peer network. It is regarded as Blockchain-backed loans and its use in the society cannot be overemphasized. One thing Salt tells you is how to hold your assets in order to get cash. For you to apply for a loan on Salt, there is an application form to fill and there are 3 things involved while doing that; 1. You get verified that same day. 2. You can customize your loan and 3. You do not need to produce your credit history. In clear terms, Salt brings a kind of leverage between your assets in order for you to get cash loans; you don't have to sell valuable investments in order to get loans. Salt boasts about hhaving over 50 Million USD in loans which have been service, about 30 lendable jurisdictions all over the world and over 64,00 users of the platform. Features of Salt 1. Security: Salt has a professional top-level security and it ensures that all assets are held in a signature wallet (not just any, a multi-signature wallet) which makes it safe. 2. Products: There are several kinds of products on Salt which have been designed to ensure there is an increase in purchasing power. 3. Collaterals: Be sure about one thing about Salt, all loan is backed by assets which have been covered by insurance.
Аdvantages
check_circle
Insurance policy for loans.
check_circle
Lending is easy and available anywhere in the world.
check_circle
Top-level security on digital assets.
Limitations