blendingbot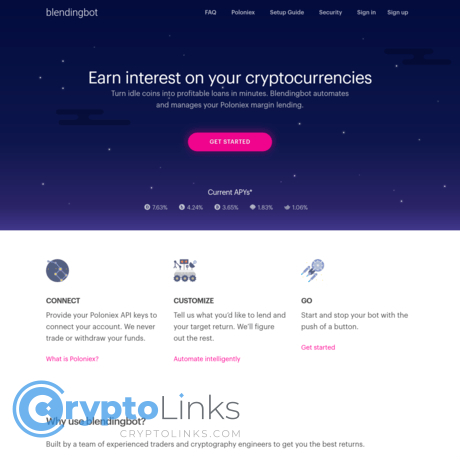 With Blendingbot, the best thing you can do is turn coins which you term useless or idle into loans you can profit from within few minutes. It works hand-in-hand with Poloniex Margin Trading by automating and managing it. All you have to do is get started and you can only do this by clicking on the button boldly displayed on the site. There are also current APIs that have been described with figures and percentages on the site. There are several key things to do on Blendingbot; the first is to Connect by providing Poloniex API keys to ensure there is a direct connection to your own account i.e. withdrawal or trading of funds is not allowed. Secondly, you learn how to Customize i.e. by making an offering on what you would like to lend as well as what you expect in return. Lastly, start or stop the operating mechanism using on one button. This platform is definitely built by a team of brilliant developers and traders who are bet at getting users with the best returns ever. Features of BlendingBot. 1. Returns: Returns from BlendingBot are always high because loan rates, duration and even order fills can be smartly adjusted. 2. Activeness: BlendingBot is always kept running and immediately there are changes, orders take place instantly. Manual works are automatically eliminated. 3. Protection: With a security protocol that determines movements, be sure you can depend on BlendingBot.
Аdvantages
check_circle
Short and explanatory.
check_circle
Easy to use.
check_circle
Higher returns from loans is guaranteed.
Limitations