Eveningstar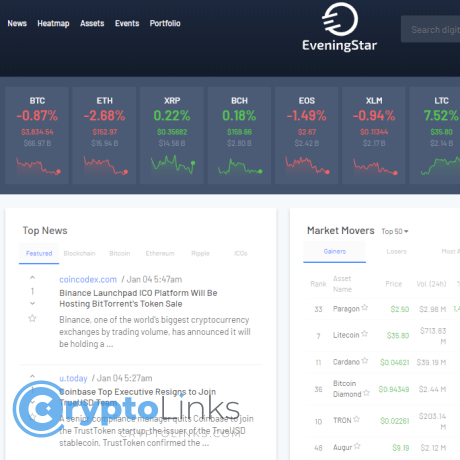 Eveningstar is a three-part cryptocurrency data platform targeting information related to news, research and financial asset tracking. There is no time wasted when visiting Eveningstar as the home page comes equipped with widgets detailing all three of the aforementioned categories. Every corner of Eveningstar is packed with information related to cryptocurrencies and offers a very organized array of news, asset tickers, and access to specific information regarding the top cryptocurrencies. There is even a well updated event calendar which includes an incredible array of new projects, asset exchange listings, and conferences! Upon creating an account, which is made rather simple due to Eveningstars intuitive and streamlined account creation methods, you'll obtain access to several helpful tools. - My Portfolio: Allows you to upload a CSV file or create your own portfolio tracking list. This tool also features digital currency to fiat currency converters and includes nearly every fiat currency on the plant! - Asset Watchlist: An easy interface that allows real time updates to the assets you choose - Wallet Tracking: Similar to the My Portfolio tool, this section allows users to track wallets simply by inputting the public address associated to any BTC or ETH wallets. - Saved News: A very handy tool enabling users to simply "star" any piece of news they find on the site and save them in one simple to use list.
Аdvantages
check_circle
Overall, the site is incredibly seamless and well organized.
check_circle
The digital asset prices are in accordance to Coinmarketcap which is the leading crypto price platform, so you can be sure prices found on Eveninstar are matching prices of consensus.
Limitations