Cryptopanic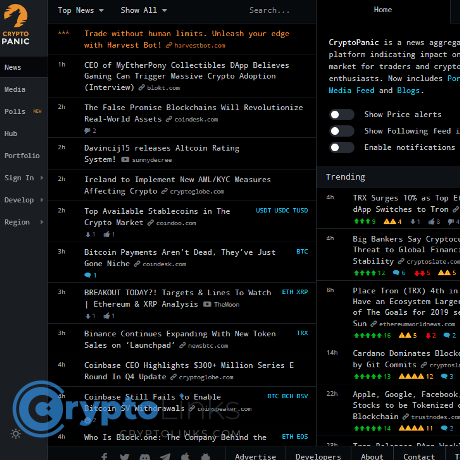 CryptoPanic Faces
Kaspars Sprogis
Founder
Cryptopanic is a news aggregating website that provides a very simple news feed and it indicates how that piece of news effects the price and market. Users can vote if they think the news indicates a bullish or bearish effect on the market. Crpytopanic also has an integrated portfolio tracker where you can input the amounts of each coin you hold and track them in one easy spot. The idea of this website is for one single entity to comb through the web and find every bit of crypto related news and display them in one constantly updated list. Functions: An easy to read news feed that is updated every minute with the latest bits of information from all over the web A media tab that seems to just add additional stories and crypto related entertainment to the news feed User voting system to determine if the news will be harmful or helpful to the price of cryptos Portfolio tracking and management tool Paying $9/month or $99/year for pro will grant you access to extra functions that include: Configuring custom alerts for specific currencies and also send related news to your email and notify you via mobile. Add custom RSS/Atom feeds from Reddit and Twitter Disable and enable any existing default news sources Metadata fields are available in the API Exclusive pro badge next to your username and profile
Аdvantages
check_circle
The website is so easy a caveman could use it.
check_circle
It really does seem to find most, if not all of the media related to crypto
Limitations
cancel
I'd rather see this in an app or some kind of desktop client. I'm sure they'll probably make one in the future.