Bitcoin Core Community Slack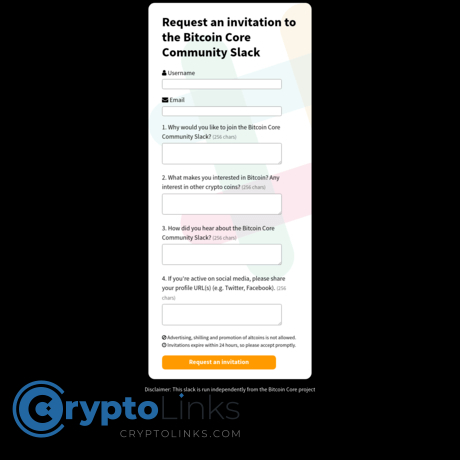 Upon visiting the website, you will have access to absolutely nothing but an invitation request form. This form will ask several questions and also for some personal information including social media account URLs. They make it very clearly that advertising, shilling, and promotion of any altcoins are strictly prohibited. Once you receive an invitation, it will expire in 24 hours so don't miss it! This slack community is not meant as a replacement for the developers of Bitcoin cores IRC channel but rather to help CXOs and a wider community interface with some of the Core development contributors. The slack community for Bitcoin Core is meant to help aid in the development of advancements for Bitcoin. Inside you will find a wide range of individuals with many different backgrounds. Some members of the slack community will be developers that directly influence the advancements of Bitcoin.
Аdvantages
check_circle
Slack is a widely accepted chat application where users can come together and collaborate on projects easily.
check_circle
Slack servers the bitcoin core communities need by offering an easy chat and project sharing interface.
check_circle
Users must request an invite, weeding out potential bad seeds.
Limitations
cancel
Some people prefer the IRC and voice their opinions on the fact that they would rather everyone use the IRC as opposed to the Slack channel.