Jamie Bartlett: How the mysterious dark net is going mainstream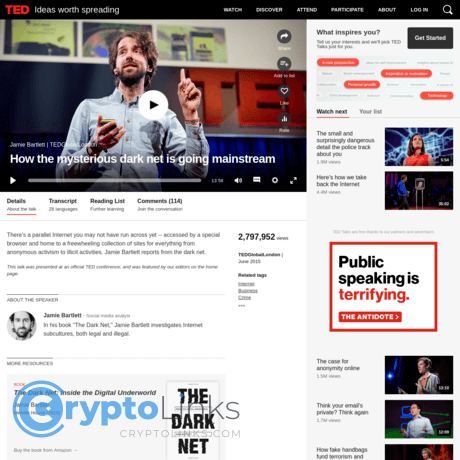 In June 2015, Jamie Bartlett gave a riveting Ted Talk on the implementation and usage of the dark net. This speech covers everything from illegal activity to anonymous activism and includes details as to how cryptocurrency has supported and even enabled a lot of the activity that goes on behind the internet as we know it. Jamie Bartlett is a famous writer who published "The Dark Net" which dives into both illegal and legal advanced internet subcultures. When he isn't investigating the dark web, he works as an established social media analyst. Jamie even gives a great detail of how to purchase illicit substances on the dark web, a must read for you ethical and curious web users of course! What is more interesting than buying drugs online, though, is how the technology has changed many times due to the creativity and technical genius of the users behind the dark net. These changes have led to revolution not only in technology used by nefarious drug traffickers but technology you very may well end up using everyday in the future. Don't like reading in English? No worries, this Ted talk is available in 28 languages via subtitles.
Аdvantages
check_circle
A very insightful guide to what the dark net entails, offering unbiased and creative explanations for everything going on behind closed, but not closed, curtains.
check_circle
The technology being used in the dark web may be the technology we all use in the future. Jamie does a great job explaining this and outlining which technology you should be educated upon.
Limitations
cancel
If buying narcotics online offends you, you may not find this Ted talk as funny or as entertaining as I did. Oh well, if not for the laughs, its still worth the education.