Bitnodes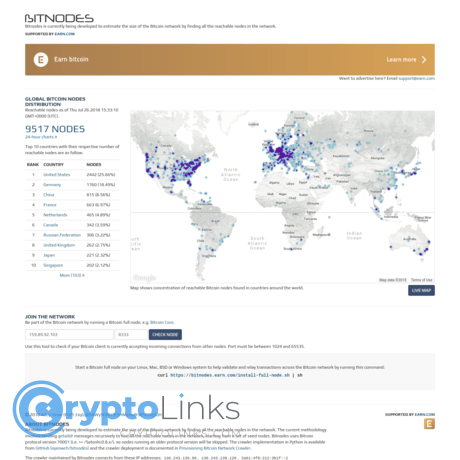 The Bitnodes website aims to gather information on Bitcoin nodes to estimate the size of the network. The website is very straightforward and easy to navigate. It displays a live map of the world showing the concentration on Bitcoin nodes across different countries. There is also a table showing nodes per country and which country has the most nodes in volume and percentage terms. There is also information which explains the methodology through which Bitnodes arrives at its figures. Older nodes than protocol version 70001 will be skipped. The methodology involves sending messages to getaddr reachable nodes to estimate the size of the network. The code for the implementation is also available on GitHub. Bitnodes is supported by Earn.com. Earn.com, rebranded from 21.co, enables users to earn digital cryptocurrency by answering emails.
Аdvantages
check_circle
Live map of the world allows the user to visualise the node distribution in different regions.
check_circle
The node ranking table makes it easy to see the top countries in terms of Bitcoin nodes.
check_circle
Free to use
check_circle
Methodology explained
Limitations
cancel
It would be nice to have a comparison of Bitcoin node development over time, this way the information would have more context.
cancel
The website is a bit sparse and doesn't have any interactions or a way to customise what data you would like to see.