Bitcoinforum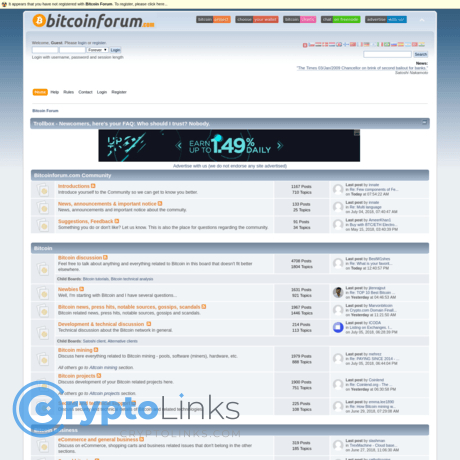 Bitcoin Forum is just another bitcoin forum. I bet you didn't see that coming. Such wowz, much forumz (for you Dogecoin hodlers). Bitcoin forum is, like the mass amounts of other crypto forums, here to promote health discussion between cryptocurrency and blockchain enthusiasts and also inform newbies and promote the adoption of cryptocurrencies. This forum has over 16k registered users and seems to be very active, with hundreds of new posts each day. There were 600 people on when I wrote this review, not too shabby and great for having a discussion. Topics you'll find here: Introductions News, announcements, and important notices Suggestions and feedback Bitcoin general discussion Newbies section Bitcoin news, press hits, notable sources, gossips, and scandals. Development and technical discussions Bitcoin mining Bitcoin projects Security and technical support eCommerce and general business Spend bitcoins Payment processing Bitcoin exchange Gambling Game Marketplace Scam Graveyard Politicis, society Off-topic Bitcoin International Altcoin discussion Altcoin announcements Altcoin projects Altcoin mining Token discussion Token Announcements Airdrops ICO State-backed Cryptocurrency
Аdvantages
check_circle
Very easy to get around and find information I specially look for.
check_circle
Looks to be a very active and friendly community.
check_circle
Wide range of expertise including newbies to experts.
check_circle
There is a lot of engagement here and many helpful users.
Limitations
cancel
No specific functions or wow factor that would cause me to use this over bitcointalk and other popular forums.
cancel
As with all forums, this one is no exception. Be weary of scammers, shillers, ponzi's, paid marketers, etc. Always do your own research and be careful with these public forums.