Beermoneyforum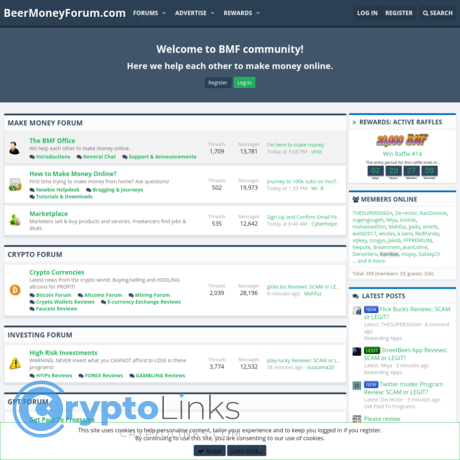 Beer Money Forums (BMF) is precisely where I would see my dad going to find out how to make money in the simplest fashion possible to fuel his endless fishing fantasy. Here you'll find a group of guys that just simply want to make a little money on the side and are generally taken off topic by various other topics (fishing included). I like it, though. I find it better for casual reading and its quite nice to get away from all the super intense Crypto speak. Of course, this forum really isn't that much different from others, such as bitcointalk and isn't nearly as active either, but there are certainly still people standing by to chat. This forum isn't totally focused on crypto, however, there is a pretty sizable discussion going on relating to several crypto topics. As of writing, there are over 33,500 crypto related posts and comments with the last one being less then 1 minute ago. I love it. It's not going to be the most mind blowing space for crypto information but it's still a useful discussion board and contains copious amounts of information.
Аdvantages
check_circle
It's a tad bit more relaxed than other crypto forums but still provides high valued information and is helpful for newbies.
check_circle
The crypto forum is surprisingly active and most questions are answers quickly.
check_circle
Crypto discussion is often related to real life, which is nice and not something always found in other crypto forums.
Limitations
cancel
As with any public forum, unfortunately, BMF is riddled with scammers, paid advertisers, shillers, etc. Be careful, do your own research, and don't get too desperate for the beer money.