Altcoinstalks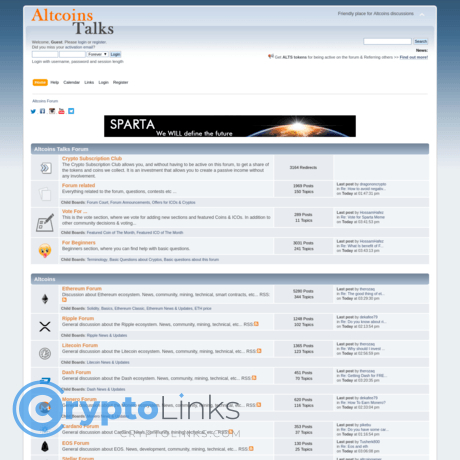 Altcoinstalks is the exact same thing as all the other bitcoin related forums. There is nothing that defines it as a stand-alone public forum. With that said, it is decently populated and seems to be quite active, offering a fantastic place for beginners and experts alike to engage in conversation and stay up to date in the crypto space. Topics included: Crypto Subscription Club Forum Discussion Experts Lounge Vote Section Beginners section Altcoins & Cryptocurrencies Discussions Ethereum Forum Ripple Forum Litecoin Forum Dash Forum Monero Forum Cardano Forum EOS Forum Stellar Forum NEM Forum Iota Forum NEO Forum Waves Forum Zcash Forum Dogecoin Forum Tron Forum OmiseGO Forum Tether Forum Other Popular Coins Cryptocurrency Mining Bitcoin Forum Bitcoin Cash Forum Bitcoin Gold Forum ICO & Tokens Offering ICO Reviews Bounties & Rewards Airdrops & Giveaways Sparta Sparta Projects Sparta Supporters Spartans Phoenicians Bitcoin Token Skraps Featured Forum Marketplace Translation Center Work for Crypto Escrow Service Advertise Your Stuff Cryptocurrency Trading Whale Club Exchanges & Crypto Related Sites News Related to Crypto Blockchain Technology General Discussion Legality & Taxation of cryptos Banks & cryptos Economics, Sociology & Politics Scams & Phishing Quarantine And several foreign language forums.
Аdvantages
check_circle
Looks to be very friendly and active. Has tons of options for specific discussions.
check_circle
At the time of writing, there are 559 users online which is plenty to hold great conversations with.
Limitations
cancel
As with any public forums, you must do your own research and expect to encounter deceptive individuals looking to scam, shill, and are paid marketers.