Mycryptopedia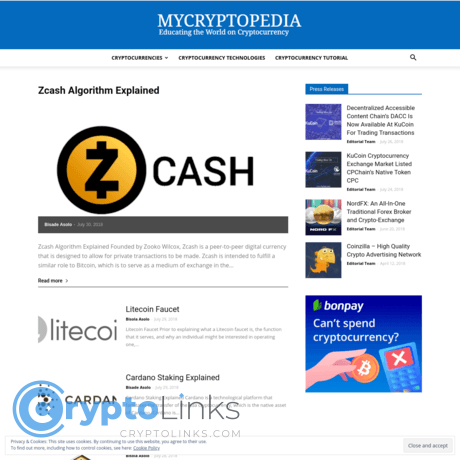 Sometimes when you see or hear about something and you are interested in it, you want to learn more about it, the best way to do that is to read about it right? When you read, you gain more knowledge and insight as long as what you're reading is well detailed and informative. If you are in search of a place where you can read and learn more about crypto currencies, well, one of the best sites available where you can read very informative and life changing articles and learn more about crypto is Mycryptopedia. Mycryptopedia is a website where you can find interesting and very informative articles which could teach you a lot about crypto currencies. Here, in this site you can learn how to start trading with a particular crypto currency, best investment techniques to use, how to mine qtum, a beginners' guide for Zcoin mining and so on. Something about knowledge is that it needs to be updated. You might be a crypto expert, but there's always room to learn more. A new crypto currency might be available now in which you can invest but you won't know if you don't read and so the best place to get that kind of helpful information is mycryptopedia. Mycryptopedia also makes news about crypto currencies available and updated everyday to keep the readers up to date on crypto. You can never learn enough on this site.
Аdvantages
check_circle
Mycryptopedia can be accessed easily using a mobile device or a laptop.
check_circle
It is usually updated on a daily basis so you can learn something new everyday.
check_circle
Articles on this site are usually well-detailed and well explanatory in order for readers to understand fully.
Limitations
cancel
You can only read on this site, you cannot comment.