CoinMarketGame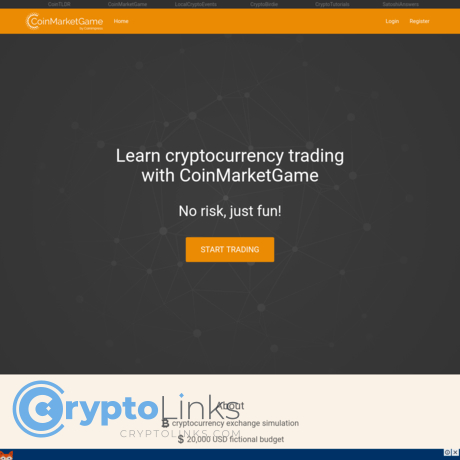 CoinmarketGame is a website whereby individuals can learn how to trade cryptocurrencies. This site gives traders opportunity to enjoy themselves while taking risks with their well-organized site. In order to start trading on this site you have to create a profile by registering with your email address and password and then logging into the account with it. On this site users are provided with four features, which are Portfolio, Market, Leaderboard and profile. The portfolio is where you can check your portfolio value, coins you have and the week's change and unallocated value. The market is where you can check the current price or value of each digital currency. It consists of listing of exchange rates of different cryptocurrencies ranging from Basic Attention Token (BAT) to Bitcoin (BTC) and so on. Here is where you can also purchase some coins to store in your portfolio. Leaderboard includes a list of top ten players, which is usually updated per week showing the players' names and their portfolio value. This CoinmarketGame can help you understand the concept of trading with different cryptocurrencies. Users also have the chance to win top best player and make the Leaderboard per week. This site created as a cryptocurrency exchange simulation with each player provided with 20,000 USD fictional budget.
Аdvantages
check_circle
You can learn to trade by trying it out yourself.
check_circle
It can be easily accessed using your mobile device or laptop at your own convenience.
check_circle
CoinmarketGame is very easy to navigate as they are well organized without any complications.
check_circle
It allows learning with different trading cryptocurrencies.
Limitations
cancel
Not much information is provided on the site as how to operate it.
cancel
It doesn't have a feedback mechanism whereas users can file their complaints.
cancel
Understanding how to trade on the site can be difficult as there are no guidelines.