Tokenly Pockets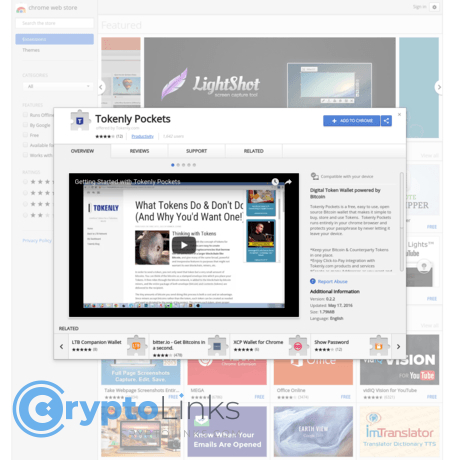 Tokenly Pockets is a Chrome extension tool designed by Tokenly to be used as an open source Bitcoin wallet. The extension and wallet are free to use, and the software is completely open source. This wallets purpose is to make the acquisition, storage, and usage of tokens easy and seamless, right inside the comforts of your browser. Tokenly can be protected by a passphrase, however, please keep in mind that all extension-based wallets are hot wallets, meaning they are not fully secure and are not meant for the long term storage of large amounts. Features list: • Store your Bitcoin & Counterparty Tokens in one easily accessible location. • Click-to-Pay integration with Tokenly.com products and services. • Unlimited Address creation and assign them memorable names to turn them into Pockets. • Quickly create a new, easy to secure HD Wallet or implement your existing 12-word passphrase from ounterwallet.io. • Secure your 12 word passphrase with a quick-access password. • Shapeshift.io integration allows for seamless in app crypto exchanging. • Send Tokens to users of LetsTalkBitcoin.com with the LTBn Directory • Remain up to date with the latest news and technology alerts in your wallet from LetsTalkBitcoin.com
Аdvantages
check_circle
Easy, seamless integration with the Google Chrome web browser.
check_circle
Client-side password security.
check_circle
Quick and easy Shapeshift integration for fast cryptocurrency exchanging.
check_circle
Unlimited wallet creation and management.
Limitations
cancel
Hot wallet storage is not the most secure way to store cryptocurrency assets and thus should be used with caution.
cancel
This wallet is not meant for large sums of assets being stored long term.