Bitcoin Crypto News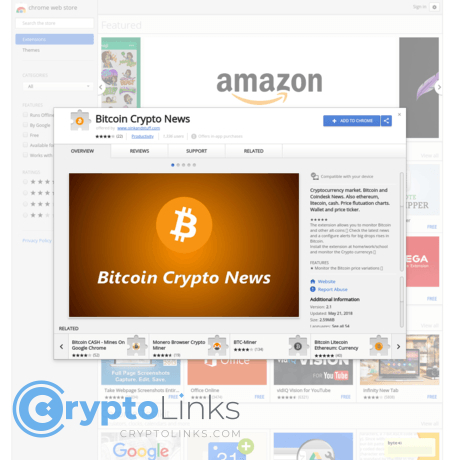 This free Google Chrome extension, created by Oinkandstuff, allows users to easily and seamlessly monitor cryptocurrency prices, news, new developments, and more! This extension is created by highly regarded professionals and offers a great sense of design and usability. Overall, it's a great light weight extension you can use to keep up to date and alerted with all of your favorite crypto data. There are many crypto news related extensions that are similar, however, this one seems to be developed by the most advanced and experienced team. OinkAndStuff have created over 40 extensions for Google Chrome and are certified as being 100% free of malware. They boast over 1 million users worldwide. Features list: • Monitor up to date valuations of Bitcoin and various other altcoins. • Receive notifications for moon runs and substantial drops in prices. • Altcoin graph showing all prices for the most popular altcoins. • Input your wallet details and monitor the net worth of your holdings.
Аdvantages
check_circle
Created by a well known professional team of developers with a wide array of experience in Google Chrome extensions.
check_circle
Professionalism at a higher level than comparable Chrome crypto extensions.
check_circle
Extremely easy to use and visually pleasing interface.
check_circle
Constant up to date alerts on news, pricing, my own personal assets, and notifications for popular assets has really helped keep me in the loop when doing other tasks via web browser.
Limitations
cancel
There are many of these tools available and they all seem to do similar tasks.