Binance Jersey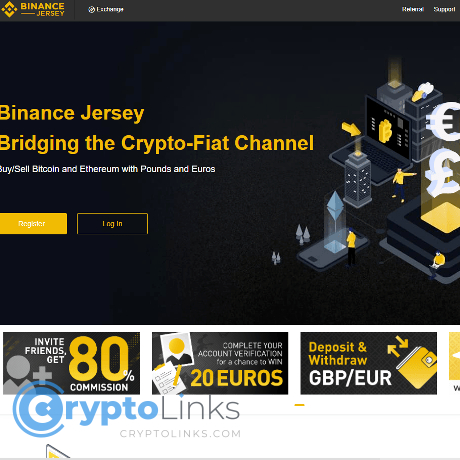 Binance Jersey is one of the latest operations Binance is undertaking in expanding into the fiat to cryptocurrency exchange business. Binance has already opened a fiat to cryptocurrency exchange that facilitates exchanging between Ugandan Dollars and bitcoin and ether. Binance Jersey supports GBP and EUR in terms of fiat currencies and bitcoin and ether in terms of cryptocurrencies. Binance is already a dominant force in the crypto to crypto exchange industry. The regularly account for the highest amount of cryptocurrency trading volume in terms of exchanges. This is one of the key strengths behind Binance Jersey. Binance already has the experience and knowledge to operate a secure and reliable exchange. To use the exchange, users simply have to register and undergo KYC. Because Binance Jersey is dealing in fiat currencies, KYC will be important in dealing with regulations. This may turn off some potential users of the exchange. The original crypto to crypto Binance exchange allows users to withdraw up to 2 bitcoin daily without undergoing KYC.
Аdvantages
check_circle
Euro and USD are two of the major fiat currencies
check_circle
Binance has already built a considerable reputation and level of trust in the cryptocurrency industry.
Limitations
cancel
Limited support in terms of cryptocurrencies. There is competition which offers a far wider selection of cryptocurrencies to trade.
cancel
Some potential users may be turned off because of the KYC