GroupFabric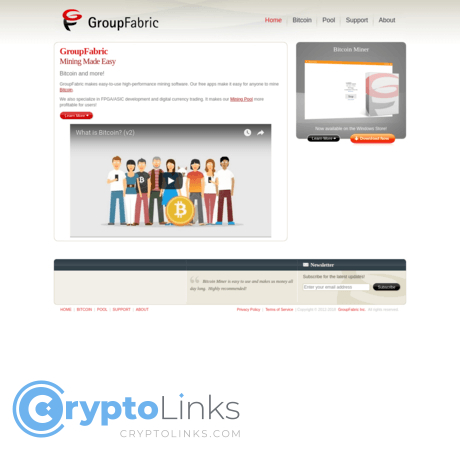 GroupFabric is an advanced type of mining software but very easy to use. What makes it very easy to use is the level of performance by the software and the free apps ready for use for mining Bitcoin. The software says it takes a specialty in FPGA and ASIC development as well as trading of cryptocurrencies. Also, with a profitable mining pool, this makes it a 3 in 1 software. To know how GroupFabric works, you must know your way around the page. A page displays how the mining software looks like on a Windows PC showing the number of Satoshis and the kH/s. You can as well view balance while those are being displayed or even stop mining with the Stop button. With GroupFabric, you can do several complex calculations if you are a Bitcoin Miner. These complex calculations are called Hashes and for every hash, you have a higher advantage of yielding more Bitcoins. Isn't that the reason why many people join pools? -to yield more Bitcoins. However, these mining pools make a certain payment called Shares which is for high value hashes. There is an animated video on the site that explains what Bitcoin is all about. It is a YouTube video which is about 1 minutes 36 seconds' in length. GroupFabric ensures miners get the best of everything in Bitcoin in an easy way.
Аdvantages
check_circle
Complex calculations are simplified.
check_circle
A YouTube video that explains Bitcoin.
check_circle
Very easy to use in order to yield more Bitcoin.
Limitations