EasyMiner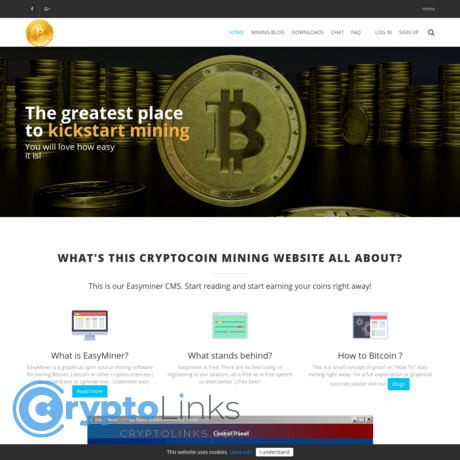 Every crypto miner needs a viable mining software to ensure that his or her activities eventually yield profits. As a miner, one of the mining software that should feature on your radar is EasyMiner. Therefore, we have created this EasyMiner review to introduce you to details that will help you determine whether the program is suitable for you. We will also discuss the strengths and weaknesses of EasyMiner. What is EasyMiner? As its name implies, EasyMiner is an open-source, free to use, and easy to use mining software that allows users to monitor and control their mining hardware as well as track their performances. Unlike a majority of the crypto mining programs out there, the EasyMiner software provides a graphic user interface, which makes it ideal for beginners. From our research on the features and functionality of this tool, it is safe to say that EasyMiner is a simpler version of BFGminer and CGminer, as it does away with the command line interface commonly implemented on a majority of crypto mining software. Apart from offering tools for controlling components of your mining rig, the software provides a graphical visualization of the performance of your hardware. With this, you can access a neat statistical representation of your operations, which will help you identify deficiencies that might negatively affect your profitability. The EasyMiner software lets you either mine solo or join a mining pool. For miners that opt for solo mining, they get to keep all the profits earned whenever they find new blocks. On the other hand, joining a mining pool increases the probability of finding new blocks. However, you have to share the profits with other members of the pool. Regardless of the mining model you adopt, the EasyMiner software gives you all of the tools you need to ensure that you are in full control of your activities. Note that EasyMiner supports only windows-based systems. Nonetheless, we found an unofficial version compatible with ubuntu. Needless to say, the restrictive nature of this product as regards compatibility might force interested miners without Windows-based systems to opt for alternative options. As for the coins supported, the EasyMiner software provides tools for Bitcoin and Litecoin mining as well as other cryptocurrencies with sha256 and scrypt algorithm. Furthermore, the open-source framework of the platform offers miners an opportunity to customize the software to their liking. What Are the Features of The EasyMiner Software? As stated earlier, the EasyMiner application provides visual representations of present and historical performances of your mining rig. Other features found on the application include a market cap banner, a stats bar, a wallet, the MoneyMaker, and a chat window. The market cap banner is vital, as it allows miners to keep in tune with price trends in the crypto market. Also, the chat window establishes EasyMiner's affinity for a crypto mining community-based ecosystem. This feature allows miners to communicate and share experiences while mining cryptocurrency. Another impressive feature is the "MoneyMaker" mode. This mode offers users an instant means to create an LTC paper wallet. It also provides miners a means to connect to the platform's private mining pool. What Are the Advantages of EasyMiner? It Is Beginner-Friendly Without any doubt, EasyMiner is one of the simplest software designed to help crypto miners optimize their mining activities. Opting for a graphic user interface establishes the software's viability as a beginner-friendly crypto mining product. Likewise, the incorporation of a slick and simple user interface contributes to the validity of EasyMiner as an ideal option for people who are just testing the waters. More importantly, easyminer.net houses a blog, where users can access useful tips like how to set up EasyMiner, among other things. The availability of tutorial materials on how to use EasyMiner is also a testament to the platform's compatibility to less-experienced crypto miners. EasyMiner provides quality security features Seeing that the provision of a wallet is an integral feature of the EasyMiner software, it was, therefore, necessary to implement premium security protocols to help users evade threats. One such security feature available on the EasyMiner platform is the NHL protocol, which assigns unique hardware signatures to users. This defense system prevents the hijack of mining hardware and attempts to steal from users' wallets. Similarly, the software enables read-only wallets to eliminate threats associated with online crypto storage facilities. It is worthwhile to note that the wallets are refreshed every 2 hours to prevent DDoS attacks, spamming, and double-spending. It Is Free to Use At the time of writing this review, EasyMiner remains free to use mining software, as users can access all of its features at no extra cost. Needless to say, this service framework has helped the platform retain its relevance in the crypto mining community. EasyMiner Offers Good Statistical and Tracking Tools The developers of the software are aware of the importance of performance tracking features to crypto miners. Therefore, they have opted to incorporate visual statics representations of the activities logged on the software. With this function, users can gauge their productivity, and in turn, optimize their efficiency as well as their profitability. It also helps that the software provides a market cap banner for its users. This implementation offers users real-time information regarding the price and market caps of EasyMiner's supported coins. It Avails Wallet Services EasyMiner implements wallet services that include security features to ensure that users have all they need to keep their earnings from nefarious entities. The Software Encourages A Community-Based Ecosystem The decision to integrate a chat window into the mining software had a significant impact on EasyMiner's current status as a community-based platform. This integration provides a means by which users can share insight relating to cryptocurrency mining and help struggling miners improve their mining business. What Are the Cons of EasyMiner? Compatibility Could Arise as An Issue After researching the entirety of the platform, the only thing that stuck out as a backdrop is the software's compatibility systems. For one, EasyMiner only supports windows-based computers, which we believe could discourage miners with other operating system-based devices. Also, there were recurring complaints about how the application triggers the alert systems of windows antivirus software products whenever miners try to install it on their computers.
Аdvantages
check_circle
Free and easy to use.
check_circle
Versability is topnotch.
check_circle
It is very easy to extend.
check_circle
Great website' design.
check_circle
It Is Beginner-Friendly
check_circle
EasyMiner provides quality security features
check_circle
The Software Encourages A Community-Based Ecosystem
Limitations
cancel
Compatibility Could Arise as An Issue