bithope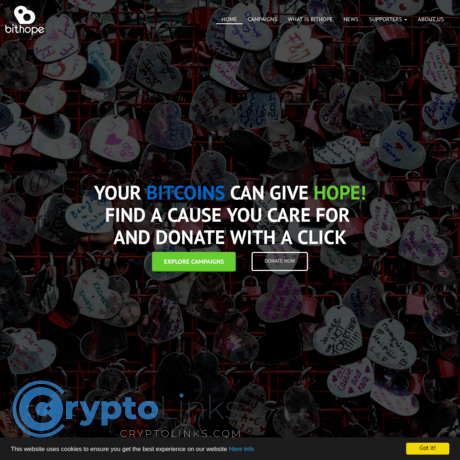 Many people in the world are "hopeless" because it has become difficult to live or even feed themselves. With your bitcoins, you can touch a lot of lives and put a smile on faces. One thing you have to look out for are campaigns. You have to look out for an Active campaign and select out of a variety of them which is worth your donations. It doesn't matter how many donations for campaigns you make, the thought of helping and giving hope matters. Also, you can donate to Bithope Foundation if you don't really know what Active campaign to donate to. When you donate to the foundation directly, you are automatically supporting their mission in helping lives. Furthermore, there is a news section in the site that provides latest updates about the site. New projects gotten or accomplished on the site are displayed for guests to see. There are also partners and donors of the platform that have been boldly displayed. Some of them are; Loanbase, 1Legal.net, Betahaus, and several others. Lastly, they make sure of social media platforms to reach a targeted audience and to gain more donors on the platform. Their system is transparent with a top priority for people tagged as the hopeless in the world. Features of Bithope 1. Campaigns: This is one of the most important things on the platform. You can either join an active campaign by donating or adding your own campaign to the list of campaign. 2. News: A News section to update readers or registered users.
Аdvantages
check_circle
Transparent and reliable.
check_circle
Maximum regard for the hopeless through campaigns.
Limitations