CryptoTrader: Charts & Alerts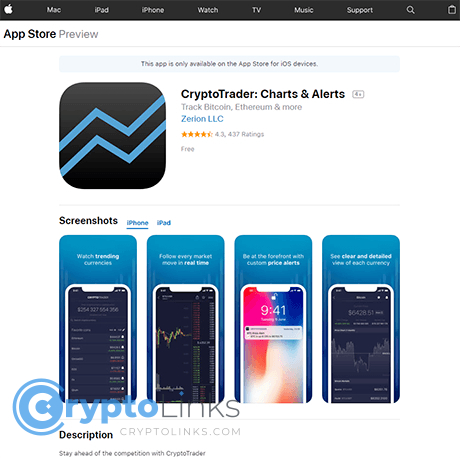 The CryptoTrader IOS application allows you total control in crypto market tracking software. We all know having quick, updated information is incredibly valuable in the crypto space and this app provides exactly that. Simple and straight forward, this is the app you need if you want top notch mobile cryptocurrency tracking and information. Features: • Data, charts and news for 1500+ coins • Exchanges including Coinbase Pro, Poloniex, Bittrex, Binance, OKEx, HitBTC, Huobi, Bitfinex, Bitstamp, Bithumb, Okcoin, BitFlyer, and more. • Real-time charting for real trading. • Customizable price alerts. • Charting tools and indicators including EMA, MACD, RSI, and more. • Very up to date news hub. • Available in English, Korean, and Russian so far with more language support planned in the future. • They also have a very active Telegram and 24/7 customer support.
Аdvantages
check_circle
This is a top FREE cryptocurreny information hub. Probably the best. I don't say that often.
check_circle
The charting software is unmatched. The ability to track top indicators on charts is incredible.
check_circle
Hosts an extremely large collection of coins across all of the major crypto exchange platforms.
check_circle
Hard pressed to find coins it DOESN'T have.
check_circle
Constant developer support from a very well-known team. (Zerion).
Limitations
cancel
This app can require a decently up to date phone to work properly. Charting takes up a lot of resources and may not display well on older phones.