Cryptocurrency Exchange Rates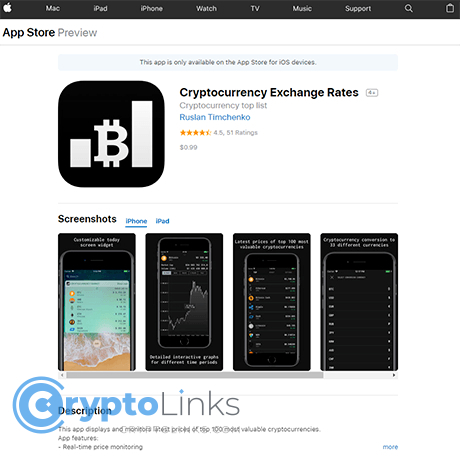 Brought to your Apple App Store by Ruslan Timchenko comes the 4.5 star rated Cryptocurrency Exchange Rates IOS application. This app really only focuses on the top 100 cryptos but displays in depth market data for those very nicely. You can easily monitor the top 100 cryptocurrencies using this App for $1. This app is really more of a stylish and simple crypto hub then a full set of tools for trading and advanced analytics. Features: - Real-time price monitoring - Custom home screen widgets displaying information for over 1500 cryptocurrencies - This app offers very detailed graphs with various time intervals - Touch sensitive pricing information available on all graphs - The conversion of several hundred cryptos into 33 different fiat currency pairings - A very sleek and stylish dark background and dark theme.
Аdvantages
check_circle
The app provides great information on the top 100 most valuable crypto assets
check_circle
The app is very stylishly designed and easy to use
check_circle
It seems to have continual developer support
check_circle
The app is offered in 11 different languages
Limitations
cancel
I'm not sure why they felt the need to charge for this app when there is a plethora of other apps that do the same thing and have very similar functions. Really, the only thing that stands out here is the widget function, but even then, this is found in other apps for FREE.
cancel
This app isn't used nearly as much as other apps in its niche. This is probably because it's a paid app for features that can be found for free.