Crypto Pro: Bitcoin Ticker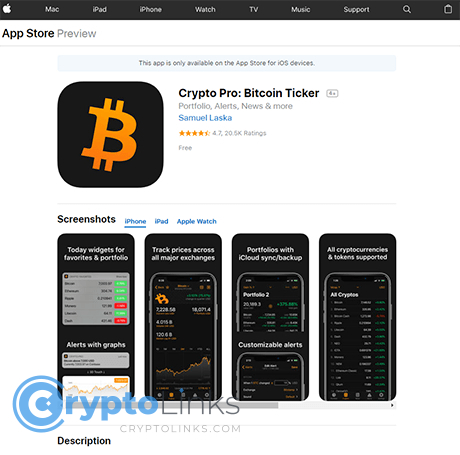 Developed by Samuel Laska, the IOS available Bitcoin Ticker application is a great addition to your crypto toolbox. The design is very easy to use and is very clean. The best part? The app and all of its included features (a lot) are totally and 100% free! Features: - iCloud and Dropbox syncing - Support for over 1000 cryptocurrencies and more updated every week - Information from over 20 of the most popular exchanges - Innovative widget function that displays your favorite cryptocurrencies updated data on your home screen. - The widget function also includes a portfolio overview tool. - Support for the Apple Watch o Displays up to 20 crypto's o Customizable design for every watch face o Price history graphs for 24hr period. o Currency converter o QR code request function - Dark and light mode - Price alerts customizer - Updated news section from over 20 sources - Currency converter calculator including over 20 fiat currencies - Portfolio data hub with gain/loss calculator - FaceID, TouchID or passcode lock integration - Exchange asset price comparisons - Dynamic font resizing - Customizable app icons - Peek & Pop and 3D Touch support
Аdvantages
check_circle
It's all FREE!
check_circle
The design is absolutely fantastic
check_circle
This app really plays to the best features of Apple devices
check_circle
It supports data for precious metals, crypto, fiat, and more assets.
check_circle
A great attempt is made in adding assets as soon as they are available.
Limitations
cancel
The app is honestly great, there are no notable cons to discuss at this time.