Coinbase - Buy Bitcoin & more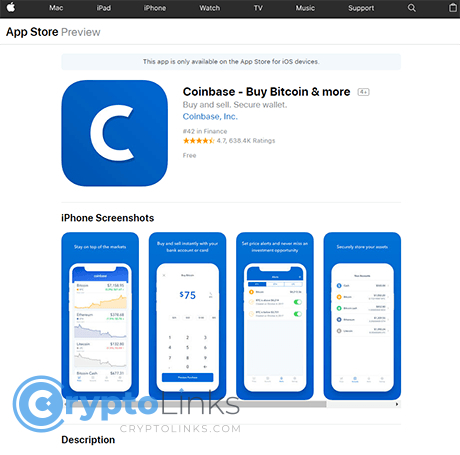 Coinbase, a massive global cryptocurrency exchange is now available on IOS! This application was designed from scratch to provide a top tier mobile cryptocurrency exchange experience. Coinbase boasts over 10 million customers. Downloading the Coinbase app on IOS gives you the ability to trade cryptocurrency assets with all of these people. Features: - Store a plethora of cryptocurrencies including Bitcoin, Bitcoin cash, Litecoin, Ether, and many alt coins! - Coinbase offers a wallet service for FREE! That means you can store your cryptocurrencies directly on your wallet, managing it from your Apple devices. (Remember that storing large amounts on an exchanges wallet does not ensure 100% security and is not suitable from a security standpoint for the long-term storage of significant assets). - Purchase and sell cryptocurrencies seamlessly, right in the palm of your hands. - Multiple payment methods including bank account, Paypal, credit cards, debit cards, and more. - Send money to basically anyone that accepts cryptocurrencies easily and securely. - Request funds from other users in specific coins. - Track over 200 cryptocurrency prices and even set alerts for price events. - Balance checking, transaction history, and transaction details for all of your Coinbase accounts with a glance. - Bank level security ensuring your digital assets are as safe as fiat would be in a bank. - Passcode protection - Realtime market data
Аdvantages
check_circle
Coinbase is probably one of the most well known and widely used exchanges to date. Most newbies will use Coinbase to get started and what better way to augment this experience than downloading the app and giving yourself full mobile control over your accounts.
check_circle
The app is full of features providing nearly a full exchange experience.
Limitations
cancel
Most professionals and seasoned crypto lovers end up leaving Coinbase for other exchanges.
cancel
Coinbase is known for is ease of use but this comes at a cost. Coin base typically has high fees compared to other exchanges.