Coin Ticker: Bitcoin & Altcoin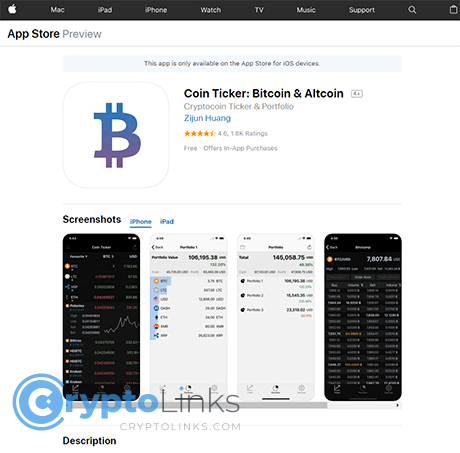 Coin Ticker is a cryptocurrency monitoring tool created to help users manage their crypto portfolio. This app was brought to your IOS app store by Zijun Huang and offers both a free and premium version. The premium "Coin Ticker Pro" version will cost you $6.99 a month and will be paid via iTunes. The subscription is automatically renewing unless you disable it more than 24 hours in advance from the date of renewal. You can turn off auto renew by switching off the function in the users account settings after your first purchase. Features: - Support for every single major cryptocurrency (1000+) - Innovative portfolio management - Historical price charts with various time intervals - Most local currency conversions are supported - Face ID or Touch ID protection integrations - Complete market info of each exchange - Trade history hub - Coin prices available in both fiat and BTC - An incorrect spelling of Satoshi. "Shatoshi" (lol) - Fully customizable list of coins - In depth portfolio management with gain/loss reports, multiple portfolio management, and automatic balance updates from BTC and ETH wallets - Portfolio API integration
Аdvantages
check_circle
Comical spelling errors
check_circle
Light and dark modes
Limitations
cancel
Spelling errors that you wouldn't expect to find in a paid and comparably expensive crypto app.
cancel
Many reports of developer abandonment.
cancel
I'm not sure why anyone would pay for this app. There are better designed apps available free of charge or, if you really feel the need to pay for a crypto app, cheaper. Most of the paid apps are a one time fee whereas this app is a monthly fee, and quite high at that.