Coin Stats - Crypto Portfolio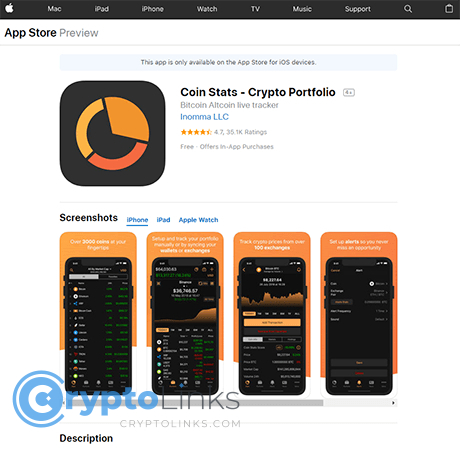 Coin Stats is a very easy and seamlessly designed IOS application that gives users full access to information regarding over 3000 coins. That's a lot! You'll be hard pressed to find coins NOT listed on this application. This application has a free version but to access all of its features, you will need to choose a subscription method and pay via iTunes account. There is an automatic renewal so make sure you don't forget to switch off the auto subscribe option in the account settings section if you wish to quit paying. Features: • Coin Research enables advanced filtering, sorting and research to help users find the most interesting crypto opportunities. • If you so wish, you can track literally every single coin. This app is very powerful and provides tracking to over 3000 coins along with real-time charting and analytical data. • A portfolio information hub which allows you to compare your portfolio with friends and track your finances over time. This also allows a free transaction history report. • Fully customizable alerts including price, limit, volume and market cap alerts. • Customizable news hub from over 40 reputable sources of crypto related news. • Very active development team providing updates every single week. Future plans are available here: feedback.coinstats.app
Аdvantages
check_circle
The layout is incredibly well designed.
check_circle
There is a free version, no need to pay unless you need advanced features.
check_circle
One of the largest coin databases for any IOS crypto application.
check_circle
Weekly updates and a very active development team that truly cares about their users.
Limitations
cancel
It's not free and a lot of the paid features can be found in free applications.