Blockfolio Bitcoin Altcoin App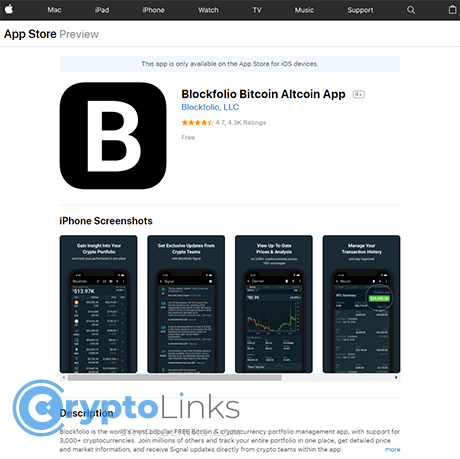 Blockfolio is a well-known cryptocurrency tracking application available on both IOS and Android devices. It's not rare to have several cryptocurrency assets floating around in various different wallets and/or exchanges. With that said, keeping track of all of them can be a pain and knowing your crypto net worth is nearly impossible in this scenario without tons of info compiling and math (eww). Blockfolio looks to solve that problem, allowing users to add in their specific cryptocurrencies, their amounts, their locations, and compiling all of this data for an easy to use portfolio management hub. Features: • Seamless and easy to use multi-platform portfolio tracking software. • Easily add transaction details, resulting in automatic portfolio updates. • Track prices and market movement of over 3000 coins. • 30+ fiat currency options to choose from and convert pricing information. • Trend charting and personal portfolio graphing software. • Blockfolio signal updates. • Development news updates and notifications from the developers of your favorite coins. • Full fledge candlestick charting and real time order book information. • Custom price alerts and notifications. • Major news outlet integration including Coindesk, Coin Telegraph and more. • App lock function via pin number
Аdvantages
check_circle
Probably the most recognized mobile portfolio information hub.
check_circle
The most up to date that I have ever tested.
check_circle
Constant developer support and 24/7 customer service.
check_circle
Super easy and convenient to use
Limitations
cancel
There are really no cons with Blockfolio. Obviously, you can't buy/sell crypto here though, it's only a portfolio information hub and not an actual exchange.