ICO Drops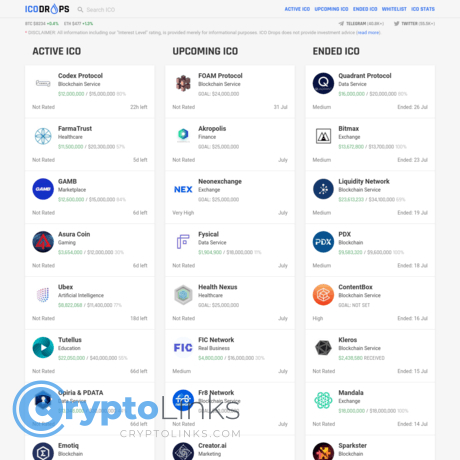 Icodrops platform claims to be a completely unbiased and unaffiliated Initial coin offering (ICO) database. The site does offer an "Interest Level" rating, which seems to be mostly the opinion of the site authors, however they do claim this is merely for informational purposes only. When first entering the site, users will notice three main lists on the front page. Active ICO: Lists the most recent ICO's that have gone live. Upcoming ICO: ICO's that are not released but have been announced, ordered by the date closest to release. Ended ICO: ICO's that have ended, ordered by most recent. The website also includes a full data based of Whitelist required ICOs so you can start applying to your favorite up and coming projects. The bounty list on Icodrops includes a list of FREE token drops given the user meet and follow specific prerequisites. For example, popular bounties include registering on their website, joining their telegram group, following Twitter accounts, retweeting, sharing, inviting friends, etc. Finally, the site offers (beta version) a portfolio management tool.
Аdvantages
check_circle
Easy to navigate website that seems to be unbiased. I haven't found any evidence of them being affiliated with specific companies or projects.
check_circle
This is a great place to find information on projects that aren't well covered by the main stream media or aren't easily accessible with general search terms.
Limitations
cancel
There are helpful statistics on each ICO but it doesn't appear to allow users to sort by specific statistics.
cancel
The Interest Level function may be slightly biased and the process on how an ICO obtains a certain level isn't clearly described. Just be careful and do your own research.